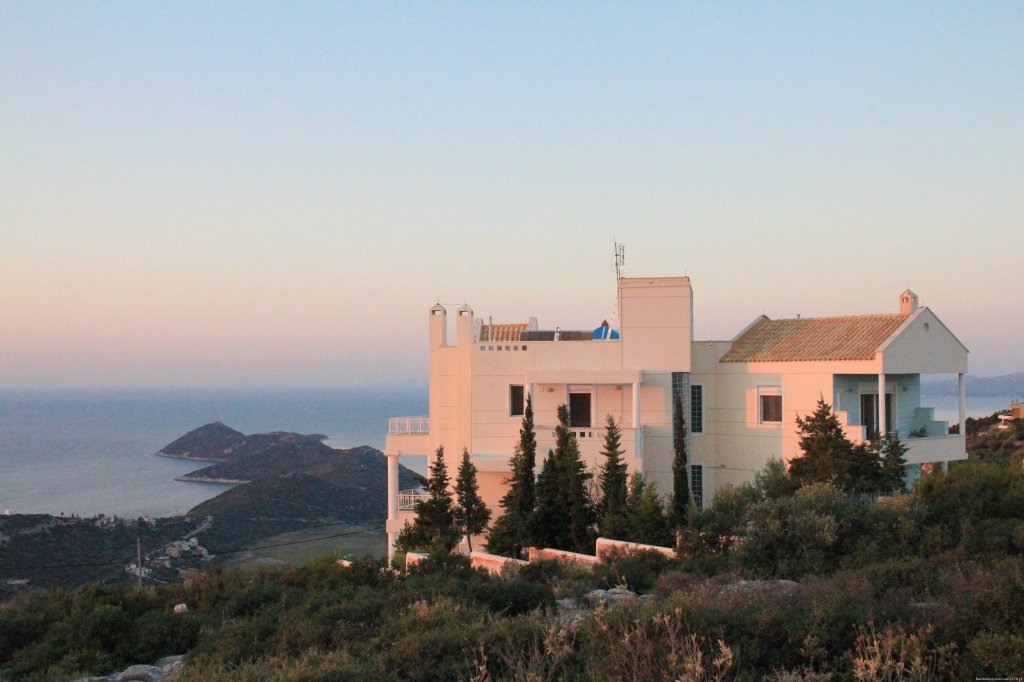 Attica, Greece Vacation Rentals
4

Bedrooms

10

Sleeps

4

Bathrooms
Luxury vacation villa, 450 sq m 4/5 bedroom 3 1/2 baths. Overlooking the plains of marathon and the coast line of Attica.
4.4/5 Stars --
From $300 / night
Surrounding Area

Ok. Lets start from the fact that this is NOT a "tourist" area. Our area belongs to the only National Ecological Park of Greece with the hundreds of bird species and interesting flora. It is therefore protected from the onslaught of night clubs and private beaches, hotels on the beach front, strip malls and shops. The park offers many delightful surprises for the bird watching lovers, long walks in the pine forest or down the hill from our villa to the coast and back..

If you want some serious night life then you have to go to Nea Makri (town about 20 minutes away), but even then the night life is "family" oriented. There are lots of restaurants and night clubs and cafes that stay open all night. There are also some very nice sports clubs within 5 minutes of the villa that offer nice and safe accommodations till late in the night. The sports clubs and others in the area offer many sports what may meet your needs such as skiing, sailing, gliding, volleyball, scuba diving etc. at very reasonable rates.

Small children love Schinias Beach, one of the most popular in the Athens area. Unlike many beaches in Greece, it is a fine sand beach. The water is clean, clear, and protected from large waves and sea currents. You can walk a long way before the water comes up to your waist, about a couple hundred meters for an adult. The kids love it! It is perfect for toddlers. They learn how to swim without being afraid of the water, by playing and wading in and out.

The eastern part of Schinias (and our community) is mountainous and separated from the western part by a distinctive narrow peninsula dashing out to sea. The mountainside is the location of the planned community of "Themis" and is dotted with summer vacation villas. Only one road services the "gated" community of Themis. The community covers a 4 kilometer stretch of mountainside coastline varying from 1 to 3 kilometers in width. Homes are in clusters, separated by large open green areas, and cover about 25% of the area preserving the rural setting of our neighborhood.

A small convenience store is the only commercial enterprise in the community. However, it provides all the necessities from fresh bread every day, to fresh vegetables from the area farms, eggs, milk and beer and of course ouzo, among many other amenities. There are several large grocery stores, pharmacies, banks etc. within a 10-20 minute drive.

We have barely any traffic on our streets and walks on them are a pleasure. This part of Schinias has rocky seashores with deep water, lovely coves and lots of privacy. The peninsula and mountainside seashore are protected from development but access for spectacular swimming, snorkeling, and diving is allowed.

A pedestrian only road provides one the pleasure of a long stroll along the sea shore enjoying the pleasure and serenity of the sea with solitude and peace.

Vacation Rental Property

Marathon, Greece… The place where that famous long-distance run originated after a Greek runner collapsed after running all the way from Marathon to Athens after announcing that Greece miraculously defeated the Persians in the Battle of Marathon. One could agree that all of Greece is special, but there's something about Marathon that makes it so mystical and attractive to travelers.
This gorgeous 4-bedroom villa is the perfect place to experience the town of Marathon the way the Greek gods do! Whether you're here for your honeymoon, family vacation, or just a stop on an extended trip around the world, you're sure to fall in love with Marathon's beauty. The villa sits right on top of a hill overlooking the Bay of Marathon and has a 360-degree view. You'll immediately notice the villa's striking unique architecture, which is kind of a modern take on classic Greek. Every single one of the rooms has exceptional views of the water, the islands and the mountains. You'll feel like a goddess sleeping on pillow-top beddings and cooking in the home's lavish gourmet kitchen. Here you'll find only furnishings of the highest quality! Let the breathtaking scenery hypnotize you as you soak up the sun from the outdoor hot tub. Pretend for a moment that you're in a James Bond movie, hiding out in some exotic luxurious lair.

Map & Directions

58 23rd dt. Schinias Marathon, Attica, Greece 19007

Points of Interest

Luxury villa, panoramic views the water

58 23rd dt. Schinias Marathon , Greece

Nearby Attractions and Services

| Distance | Description |
| --- | --- |
| 3 km | Sports clubs |
| 3 Km | Beach |
| 7 Km | Museums |
| 20 Km | Port of Rafina |

Rates & Availability

| Date | Medium | Large | Medium group size 6, Large 10 |
| --- | --- | --- | --- |
| Jan 7 - March 23 | 2450 | 3200 | Winter |
| March 24 - April 7 | 2900 | 3700 | Easter week |
| April 8- May 31 | 2150 | 3200 | Spring |
| June 1 - September 15 | 2900 | 3700 | Summer |
| September 16 - December 18 | 2200 | 2900 | Fall |
| Christmas | 2900 | 3700 | Holidays |

Rates are based on medium size group of 6 or 10.

If larger group inquire about guest house or more accommodations.

Rates are based on medium size group of 6 or 10.

If larger group inquire about guest house or more accommodations.

-Special rates for large groups that require more than 4 bedrooms.

-The guesthouse can be made available. Additional 2 bedrooms, 2 baths, kitchen, living room

*Please

contact advertiser

for rates & availability for your travel dates.