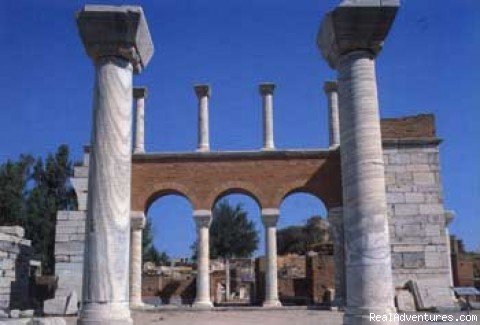 The Seven Churches Of The Revelations Tours Turkey
Sight-Seeing Tours | Aydin, Turkey
The Christian faith soon started to spread outside the boundaries of Palestine, the land of Jesus.There are many tour companies that do a top rate tour of historical biblical sites.We have found something lacking, however for the religious/spiritual
USD $750 per trip
Activity/Tour


The Christian faith soon started to spread outside the boundaries of Palestine, the land of Jesus. There are many tour companies that do a top rate tour of historical biblical sites. We have found something lacking, however for the religious/spiritual seeker. We are starting a new program where we will customize our tour not only as an exciting excursion through the holyland to the places where the Holy Mother of Jesus lived and died in Ephesus or where John the Beloved experienced revelations or where Paul of Tarsus preached the Good News.

Typical Day

Day 01 ) Arrival in Istanbul and Overnight stay. (D)

ISTANBUL
Day 02 ) After breakfast we visit Topkapi palace , The hippodrome and the Blue Mosque. After lunch we visit St. Sophia's Museum and Overnight in Istanbul. (B L D)

TROY PERGAMUM
DAY 03 ) Early departure to Canakkale after lunch visit the legandary city of Troy (Wooden Horse) ,the city of the "IIiad " and the "Odyssey" .Then we drive to Pergamum for overnight. (B L D)
IZMIR KUSADASI
DAY 04 ) Visit the Acropolis whose grandeur makes up for the missing Altar of Zeus, referred in the Bible as the "Satan's seat ".Pergamum with 200.000 rolls in its library which rivalled that of Alexandria was a great center of scholarship and learning. Parchment ( charta pergamena ) was invented here. After that we visit the Acslepion the ancient hospital,The ruins are so complete that walking among them,one can relive the methods employed in this health center from sacrifice to psychodrama. After lunch drive to Izmir (Symrna) and visit the St Policarp 's church in Izmir. Overnight in Kusadasi . (B L D)

EPHESUS
DAY 05 ) Full day tour of Ephesus. This day will probably be the highlight of whole tour. Firstly we visit the Basilica of St. John, then visit the Temple of Artemis, one of the seven wonders of the ancient world.. After lunch visit the Virgin Mary's House. After that driving to Laodiceia .The geogrophic location of the city will explain why the Laodiceians were "neither hot nor cold but lukewarm "as the message says in the Bible. Than a short time ride to Pamukkale for overnight. Group will have a chance to enjoy swimming in the warm spring water of Pamukkale. (B L D)

SARDES BURSA
DAY 06 )Early in the morning visit the ruins of Hierapolis in Pamukkale .Then drive to Philadelphia "the city of brotherly love, than a short bus ride to Sardes where Christianity took root at an early date. Even though the new faith appeared to have made rapid progress here. St. John was not convinced that all was well. Than visit the Thyatira via Bursa. Overnight in Bursa. (B L D)

BURSA- ISTANBUL
DAY 07 ) Bursa capital of Ottoman Empire, visit the Grand Mosque Green Tomb and Silk Bazaar after lunch drive to İznik (Nicaea) the seventh Ecumenical Council which took place in Nicaea 's church of St. Sophia. This settled the controversy about icons. After that we drive to Istanbul for overnight. (B L D)

DAY 08 ) Transfer to airport. (B)


Map & Directions




Liman Cad No 17, Aydin, Turkey 9400


Sleeping and meals

Accommodations in three star hotels based on double occupancy. Single occupancy surcharge.Professional English speaking guide throughout the tour.

Breakfast (B), Lunch (L) and Dinner (D) as indicated in the itinerary.

All sightseeing and admission fees.

Two airport transfers, plus all in country transport in new air-conditioned buses.





Other Information

We offer special discounts for group bookings making our service perfect for student excursions and holidays. We would like to inform you that we provide budget tours for group bookings for schools and colleges. We are hoping that we can show you students the wonders of Turkey with guidance from our experienced staff.



Advertiser Info

salman kurt (View Profile)

Samyeli Travel are Turkey Travel specialists who can help you plan the perfect holiday in Turkey Travel, whether it's Anzac Day Tours, Ephesus Tours, Istanbul City Tours, Hotels, Hostels, Airport Transfers or anything else you can think of, we can help.

We are based in the seaside town of Kusadasi on the West coast of Turkey and have been helping people like you get the most out of their time in Turkey for over 10 years.

Our team are multi-lingual and qualified travel operators, so when you choose Samyeli Travel you can be sure you are getting advice from those in the know and who can answer your queries clearly and promptly.

The guides we use for our tours are all experts in their field and are some of the most experienced and knowledgeable guides in Turkey.

All our bookings can be made online using our secure credit card booking process, which is followed up quickly with confirmation of your booking and full information about your booking and itinerary.

We look forward to helping you with all your travel arrangements and hope to see you in Turkey soon.

salman kurt

Anzac Day Tour Operator

Listing # RA-1025775