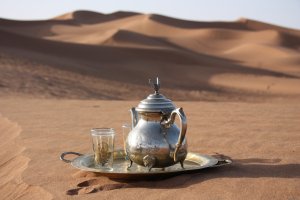 Starting at
USD $77.00
per night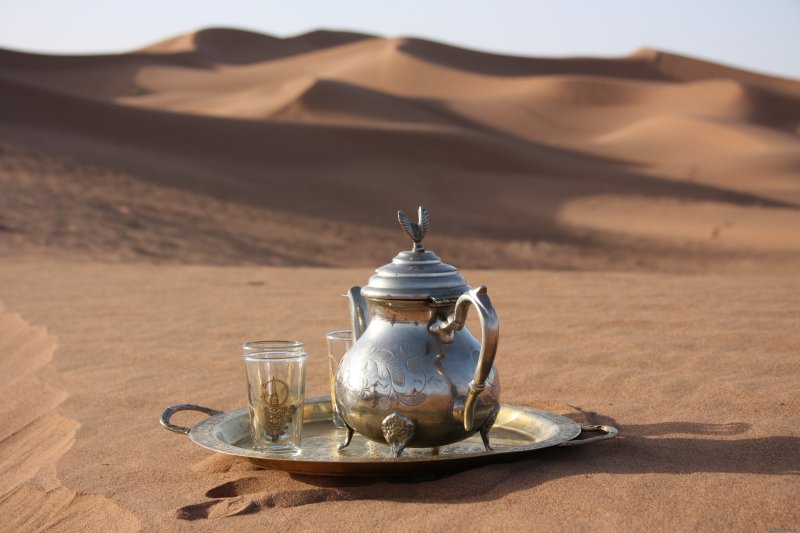 Tea in the sahara (#1/24)
Trip-dossier: This trip neatly marks the end of Morocco���¢�¯�¿�½�¯�¿�½s great oasis valleys. Beyond the last outpost the sand drifting like snow across the road, the immensity of the horizon .Under the starlit sky of the Cheggaga dunes, few miles further away, people encounter with desert life .Beyond Mhamid, the desert becomes a 360������° degrees reality, where the ocean of sand dunes submerges and the desert sensations put some kick in the admirers. Fact file: Day 1: Marrakech- sidi Saleh- Tidri Day2: Tidri- Ras Nakhil Day3: Ras Nakhil- Sidi Naji Day4: Sidi Naji- Erg Zhar Day5: Erg Smar Day6: Cheggaga Day 7: back to Marrakech General information: -Staff: guide & drivers -Activities: Safaris/ culture/ walking -Grade: moderate/ strenuous -Group size: minimum 2 -Accommodation: Riads/hotels/Bedouin camp -Portage: 4x4/ bus/ camels -Arrival: Marrakech/ Ouarzazate Prizes: starting from 350.00 euros/ per person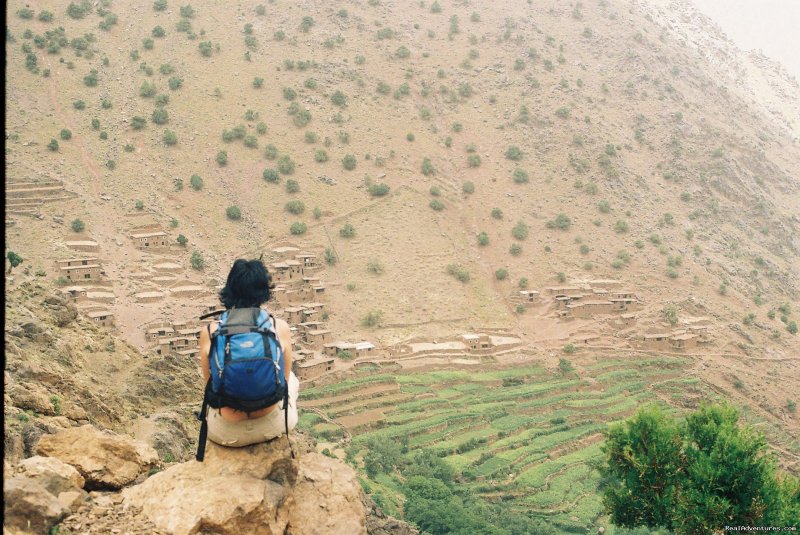 under the berber skies (#2/24)
Trip-dossier: We discover the wilderness of the Atlas Mountains during some days of fairly rugged walking, enjoy the hardy and hospitable Berber people���¢�¯�¿�½�¯�¿�½s company and attempt an ascent of North Africa���¢�¯�¿�½�¯�¿�½s highest summit. This tour offers highlights of this mighty mountain with an insight into the ancestral tribal life of the different perched villages on the hillsides with their neat lush terraces blooming under the sunny sky of Morocco. Should you not forget the bustling ambiance of the most dynamic and controversial city ���¢�¯�¿�½���¦the unbeatable and splendid Marrakech with its souks, smells and sounds. Fact file: Type: trekking/discovery/ Cultural Grade: moderate/ strenuous *** Accommodation: hotel/ Riad/ guesthouse/ camping Portage: mules/ bus or 4x4 Team: guide/ drivers/ muleteers Flight arrangement: Marrakech Group size: 4-16 max Period: April- October Duration: 8 days Itinerary: Day 1: arrival from Casablanca and transfer to Marrakech. Explore Marrakech city after our arrival. Day2: Marrakech -Setti fattma- Timichi Day 3: Timichi -Tizi ouaatar (3246 m) - Oukeimeden (2668m). Day4: Oukeimeden ���¢�¯�¿�½�¯�¿�½ Aguersiuoal (1750 m) Day5: Aguersioual -Tiziane-Tizi oussem Day 6: Tizi Oussem - Tizi n���¢�¯�¿�½�¯�¿�½tadat -Neltner hut. Day 7: Neltner- Toubkal summit-Aremd Transfer back to Marrakech via Asni .overnight in a hotel. Day 8: Free day in Marrakech Day 9: Transfer back to Casablanca Prizes start from 590.00 euros/ per person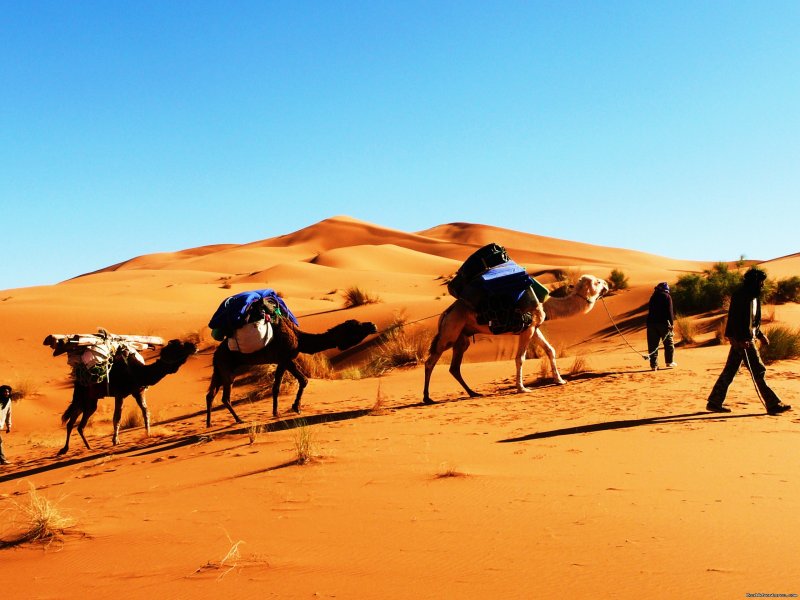 Magic carpet/ family vaccations (#3/24)
Trip-dossier: Multiple faces are to be explored while on magic carpets. From the bustling ochre city of Marrakech to the inviting sea-side cities to the oldest capitals of Morocco, we carry on to the heart of the middle and High Atlas for some great strolls amongst the Berbers. This tour could not be particularly great without a starry night in the Desert before we head back to the Amazing squares of Marrakech vibrating with acrobats, snake charmers and story tellers. ITINERARY: Day1: Marrakech- Essaouira Day2-3: Safi- El jadida Day4: Casablanca- Rabat Day5: Meknes- fes Day6: fes city tour Day7: middle Atlas stroll Day8: Bin El oudane lake Day 9- 10: Bouguemez valley Day 11: Tassawt valley Day 12-13: Zagora- M���¢�¯�¿�½�¯�¿�½hamid- bedouin camp Day 14: Taznakht- Taliwine- Taroudant Day 15: Tizi n���¢�¯�¿�½�¯�¿�½tasst - Marrakech GENERAL INFOS -Family trip: Discovery/ culture -Group size: 4- 16 -Activities: Bus/ walking/ camel or mule ride/ workshops -Duration: 17 days -Staff: tour guide/ Driver & assistants -Period: September/ June prizes start from 860.00 euros / per person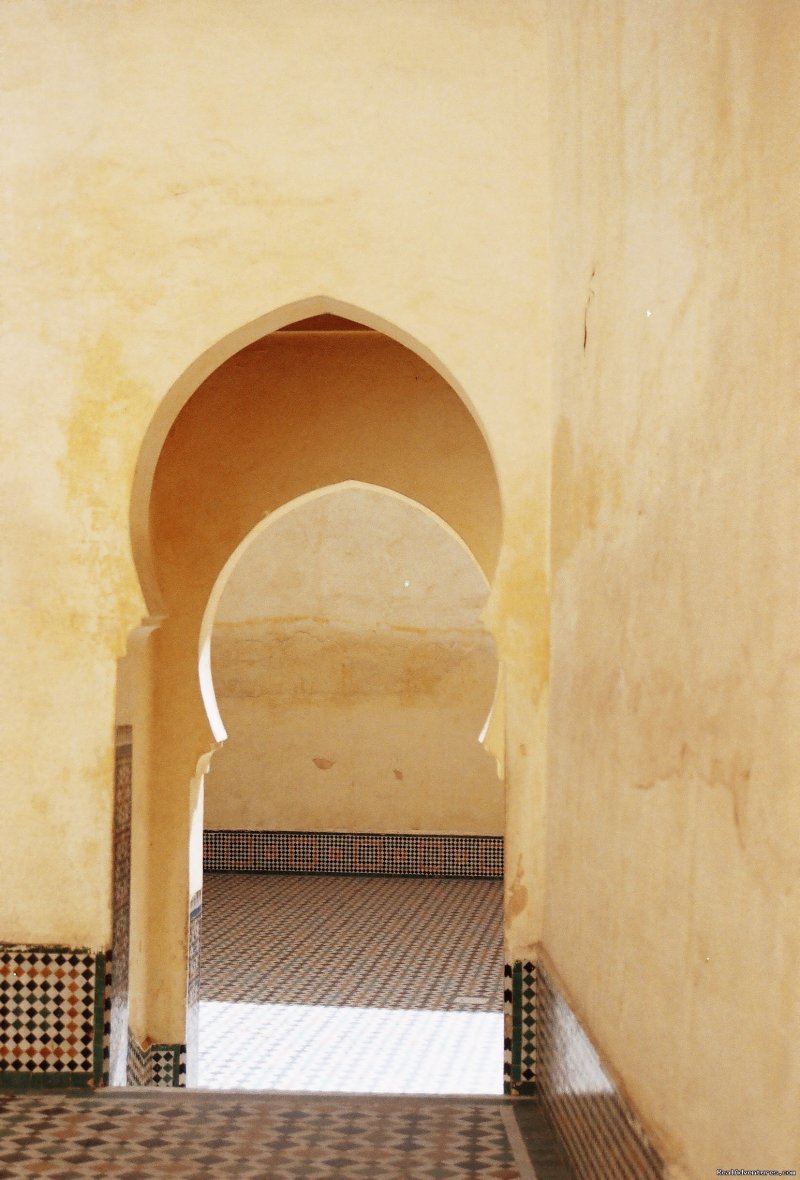 Travelling with a Tanjia/ culture and gourmet trip (#4/24)
Trip-dossier: These particular tours offer cooking lessons and workshops held in a purpose-built teaching kitchen in a small house, riad or just in the outdoors depending on our itinerary. Each session is preceded by a brief stop where participants, accompanied by the cook or the tour guide, are invited out on shopping expeditions to the local produce market. Once in the place they will get an introduction into the real Moroccan cuisine and the dishes being prepared. If your ideal way to visit Morocco is a combination of cookery lessons, cultural and adventurous outings contact us since we made forays into unique places where you can both make your own and taste the finest of the real Morocco and the finest of its cuisine. ITINERARY: -Day 1: Rabat visit - cooking in a riad -Day 2: Meknes- shopping in a Market- cooking in a local house -Day 3: visit Moulay Idriss- Volubilis- Fes -Day 4: visit and shopping- night meal in a Riad -Day 5: Middle Atlas ( Azrou) - Berber cooking lesson- -Day 6: Khenifra- Beni Mellal- Azilal -Day 7: Marrakech- visit the red city -Day 8: cooking in a riad- visit the city -Day 9: High Atlas trip -Day 10: Day trip to Essaouira- Marrakech INFORMATION: - Activities: cooking- walking- culture - Duration: 12 days - Group size: 4 to 10 - Accommodation: Hotels/ Riads/ Auberges *** quotes on request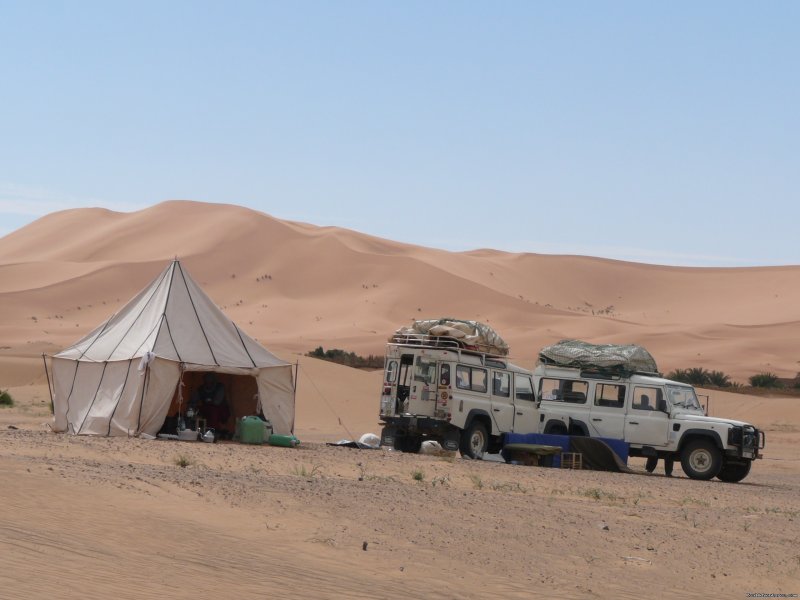 beyond the hidden trails (#5/24)
Trip-dossier: The most exciting way to see the Atlas is also by driving through hills, mountainous roads and Berber villages & valleys. Many surprising sights and breathtaking views open off every turn offering a rich diversity and unique encounters of medieval and still unchanged ways of living. ITINERARY: Day1: Marrakech, Day2: Skoura via Demnate, Day3: Dades valley via Boutarhrar, Day5: Merzouga via Rissani, Day 6: Zagora via Taouss and Tazarine, Day7-8: Mhamid and Cheggaga dunes, Day8: Taliwine via Foum Zguid, Day9: Tizi N'tast to Marrakech. THEMES: �¢ï¿½�¢ Exploration and Adventures �¢ï¿½�¢ Cultural encounters �¢ï¿½�¢ Walking and camel riding SLEEPING ARRANGEMENTS: Riads, Kasbahs, auberges, gites d'etapes, hotels, local houses & bedouin camping tents. MEANS OF TRAVEL: 4wd (Toyota / Nissan/ Hyundai FLIGHT ARRANGEMENT: Marrakech/ Casablanca prizes start from 1320.00 euros per person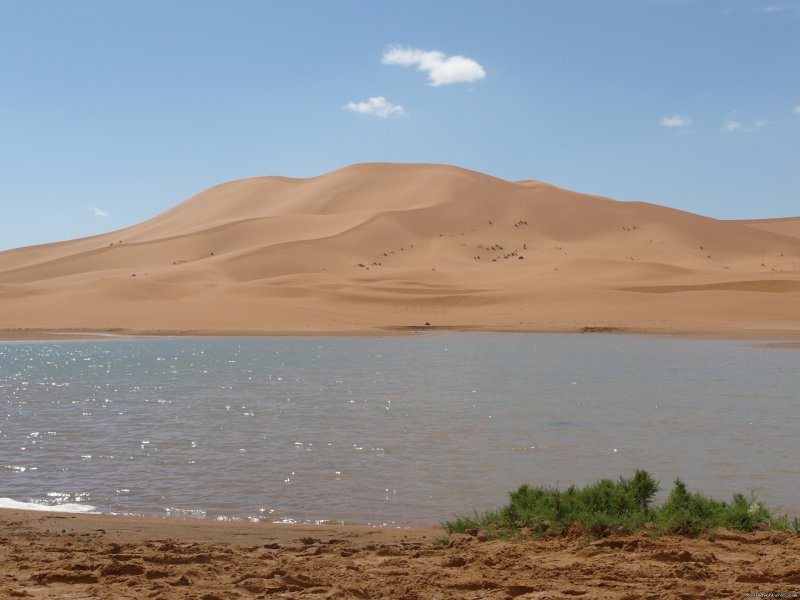 walking with the kids (#6/24)
Trip-dossier: At the heart of the central high Atlas lies beautifully the happy valley of the Ait Bouguemez tribes. Visitors have not been here a long time ago which makes encounters with locals a truly authentic cultural happening. There is nothing more rewarding than travelling with your family with a day-sack tracking mules�¢ï¿½ï¿½ prints and seeking beauty in a land of contrast between mighty mountains and lush meadows. From adobe village to another one, the warmth of women, the hospitality of men and the unbeatable joy of kids in the fields will certainly appeal for a cup of mint tea and a possible meal in one of those red baked-clay houses. This is an opportunity to explore the beauty of interior and the ancestral heritage of the valley. Here we come to encounter people as they are and wish to bring back learning and new attitude. With the best ethical approach enhancing a true cultural and economical exchange we draw a true educational experience performed under respectful norms and viable conduct. Category: family trips/ discovery/ culture Grade: easy Activities: walk/ mule riding/ biking Portage: 4x4/Bus/ Mules Period: March- October Joining: Marrakech ITINERARY: Day1: arrival and transfer to the hotel Day2: visit the exotic red city, the alleyways, bubbling markets and most important monuments. Day3: drive to the valley with a stop at the Ouzoud waterfalls. Lunch at Azilal Day4, 5 and 6: Strolling in the valley or riding a mule seeking for encounters with the locals busy in the fields doing their daily homework, we will stop from now and then to take part in some of these activities, help preparing a local specialty or visit highlighted places of interesting traits. Nights spent in local accommodation, gites or auberges, and fun places with local entertainments. Day7: drive back to Marrakech via Azilal. Overnight at the hotel. prizes start from 570.00 euros per person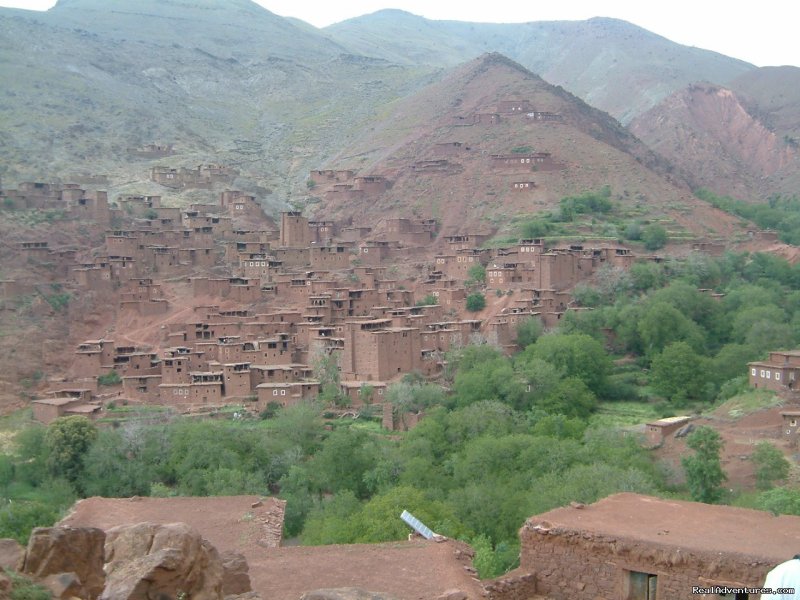 the happy valley stroll (#7/24)
Trip-dossier: Itinerary details: An easy walk to explore Morocco���¢�¯�¿�½�¯�¿�½s ���¢�¯�¿�½�¯�¿�½happy valley���¢�¯�¿�½�¯�¿�½ amongst lush and vibrating green fields, charming gardens of walnuts and apples and stunning villages. Encounters with the locals offer unbeatable opportunities to taste and enjoy insights into a unique and old existing culture. ITINERARY: Day1: transfer from Marrakech to Bouguemez Day2-3-4: explore the valley, villages and special encounters with locals going for cultural and associative activities living the rhythm of a peaceful and rustic community. Day5: Back to Marrakech via the biggest waterfall in the country. Overnight in Marrakech. Day6: explore the Red city and its square. Category: family trips/ discovery/ culture Grade: easy Activities: walk/ mule riding/ biking Portage: 4x4/Bus/ Mules Accommodation: Riad / hotel/ gite or auberges Period: March- October Joining: Marrakech prizes start from 470.00 euros / per person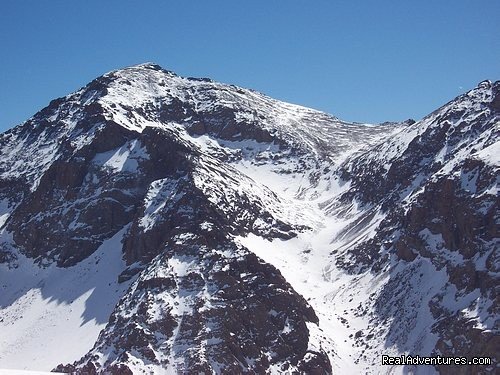 winter Toubkal (#8/24)
Tour title: WINTER TOUBKAL High Atlas Ski Touring // Morocco Trip-dossier: Tour Duration: 8 day(s) Group Size: 5 - 10 people Grade: strenuous/ tough Destination(s): Morocco/ High Atlas Specialty Categories: Skiing & Snowboarding Mountain/Rock Climbing Season: December- March Tour Customizable: Yes Fact File: A beautiful journey of discovery through the heart of the High Atlas Mountains in winter ascending high peaks, enjoying some steep ski descents and experiencing remote Berber villages with their renowned hospitality. This is an opportunity to combine excellent early season ski touring with the unique culture and customs of this fascinating North African country. We start and finish the trip in Marrakesh, a historic melting pot of frenetic activity! Skill & Stamina: This is advanced ski tour in rugged mountain country with steep ascents and descents up to 40-45������º. Previous multi-day ski touring is essential. Emergency rescue facilities in the mountains are limited and you need to be able to deal with demanding conditions and basic facilities. This is an advanced ski tour with long 6-8 hour days requiring excellent fitness and stamina. Mules and sometimes Porters are used for carrying gear on and off the mountain so you only need to ski with light packs. Your Itinerary: Day 1: Arrive in Casablanca. You will be met at the airport and transferred to Marrakech .At the hotel or Riad just a few minutes walk from the Jemaa el Fna Square you might have some time to explore ���¢�¯�¿�½�¯�¿�½ the Souk, Medina, museums, palaces and gardens - and soak up the unique atmosphere of this enchanting and ochre city. Day 2: Marrakech- Oukeimeden- Tacheddirt Depart the hotel at 6 am for the 2-hour journey by bus or 4x4 along mountain roads to the trailhead at Oukeimeden ski resort, which is also the highest ski resort in North Africa. Once on our skis the route takes us over Tizi'n Eddi (2928m) followed by a descent into the Tachddirt valley and the villages of Tameguist and Tachddirt (2250m). Stay overnight in the village. Walk duration: 4-6 hours Day 3: Likemt- Aremd Ascent of Tizi'n Likemt (3615m) followed by a stunning descent. At the foot of the mountains the mules will be waiting for us for the interesting trek over the Col de Tamatert (2279m) to M'Zik (1750m). Fantastic views en-route of the mountain oasis at Aremd. Stay overnight in the village. Duration: 5-8 hours. Day 4: Aremd- Neltner A long uphill day, walking and skiing to the Toubkal (3100m) passing by S Overnight at the hut. Duration: 4-7 hours. Day 5: Neltner- Summit Toubkal ascent (4167m). This is the highest mountain in North Africa and with clear weather the panoramic views from the summit are just astonishing. Depending on snow conditions you may not be able to ascend to the summit on skis but will need to climb in boots to reach the top. Return to the hut via the same route. Duration: 5-7 hours Day 6: Neltner- Tazarhart- Lepiney The beautiful ski traverse and ascent of Tizi'n Tadat (3600m) with stunning panoramic views. This is followed by an excellent descent to Lepiney hut (3300m). Night in the hut. Duration: 5-8 hours. Day 7: Tazarht- Imlil ���¢�¯�¿�½�¯�¿�½Marrakech Early start for the ascent of Tazarharht (3980m). Return to the hut and the ski down to M'zik and Imlil. Duration: 6-8 hours. Drive back to Marrakesh via Asni, site of one of the largest souks to celebrate a great trip with dinner on the terrace enjoying superb views across the city. Overnight at the Hotel / Riad Day 8: Marrakech Explore Marrakech monuments, sites, square and souks with a guide. Diner somewhere near the Jemaa Lafna square. Day 9: Breakfast in the hotel and transfer back to Casablanca. Return to the airport for the flight home. Notes: Accommodation: - 2 nights in an authentic Moroccan Hotel / Riad in central Marrakesh; - 3 nights in CAF (Club Alpin Francais) refuges on Toubkal and Tazaghart. The refuges are basic mountain huts with dormitory style accommodation and limited facilities. Food is plentiful and excellent; - 2 nights in villages either staying with local Berber families or in CAF refuges. Equipment: - Ski Touring equipment is essential together with skins, ski & boot crampons and an ice-axe; - There is no glaciated terrain so harnesses and other climbing equipment is not required; - As always you must ski at all times with avalanche transceiver, shovel and probe; - All equipment must be brought with you. Insurance: 9-day single trip policy including guided ski mountaineering. Prizes start from 780.00 euros/ per person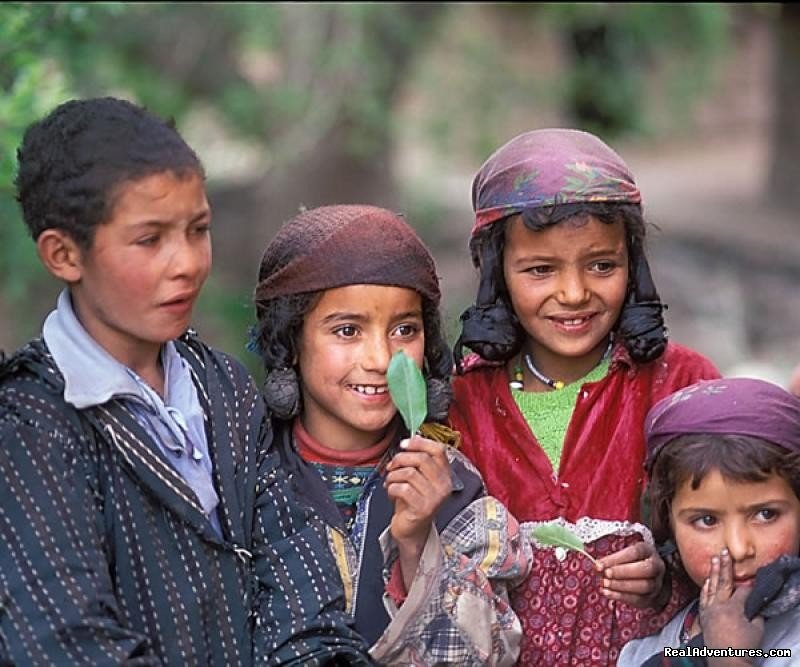 Travelling with a Tangerine/ family journey in Morocco (#9/24)
Trip-dossier: We tour some of Morocco���¢�¯�¿�½�¯�¿�½s most popular sites, alleys and souks, driving through the Atlas unique cedar forests and wildlife, jostling with the crowds in Marrakech, the heartbeat of Morocco and enjoying some time in the calm dunes of the Sahara. We will continue wandering in some of the country���¢�¯�¿�½�¯�¿�½s side trips through the southern stunning villages and valleys bartering for rugs and baboushes in the wild and amazing souks, before we end up driving by the coastline and gazing at the turquoise sea. ITINERARY -Day1: Casablanca- Rabat -Day2: Meknes -Day3: Volubilis- Fes -Day4/5: fes- Ifrane/ Azrou -Day6: Midelt- Merzouga -Day7: Tinrhir/Dades -Day8: Ait Ben Haddou -Day: 9- 10: Tichka pass/ Imlil -Day: 11/ 12: Essaouira -Day: 12/13: Marrakech GENERAL INFOS -Family trip: Discovery/ culture -Group size: 4- 16 -Activities: Bus/ walking/ camel or mule ride/ workshops -Duration: 15 days -Staff: tour guide/ driver & assistants -Period: September/ June -Grade: Easy Prizes start from 790.00 euros / per person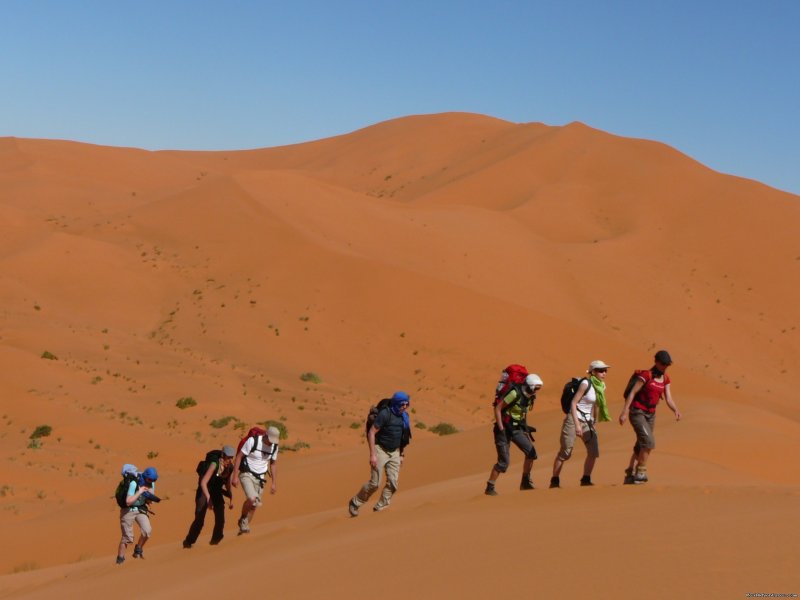 saharan skies (#10/24)
Trip-dossier: With its immensity, wide open spaces and tundra like scenery, driving in the Cheggaga is a thrilling and riveting adventure .In addition to the scenery, the obstacles presented by dromedaries and donkey-drawn carts make travelling more interesting. Life's rhythm follows the camels���¢�¯�¿�½�¯�¿�½ pace and people stroll along the roads' sides and take it easy. Fact file: Day1: Marrakech /Ouarzazate/Zagora/Mhamid. Day1: Marrakech/ Ouarzazate /Zagora, B���¢�¯�¿�½�¯�¿�½ni ali Day2: BNI ALI /IMI TALAT. Day3: IMI TALAT / NESRATE dunes. Day4: NESRATE / TEDRI dunes Day5-TEDRI / BOUNOU Day6: BOUNOU / OULAD DRISS Day7: transfer to Marrakech via Ait Benhaddou- General Information: -Staff: guide & drivers -Activities: Safaris/ culture/ walking -Grade: moderate/ strenuous -Group size: minimum 2 -Accommodation: Riads/hotels/Bedouin camp -Portage: 4x4/ bus/ camels -Arrival: Marrakech prizes start from 640.00 euros per person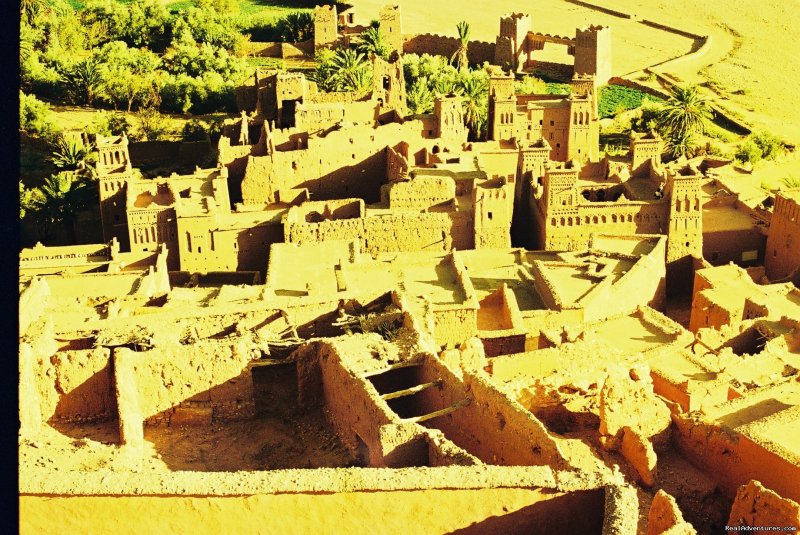 kasbahs and pachas (#11/24)
Trip-dossier: Southern Morocco has long attracted visitors in search of a break from the gloom of winter. Dotted across the country are a group of hosters who have coaxed delightful resting places into being. So many hideaways now luxuriate in the tranquility of their spot offering times of mirthful recovery. This journey takes you over charming Kasbahs around the spectacular landscapes of the Sahara. Fact file: Day1: Marrakech- Taroudant Day2: Taroudant - Zagora Day3: Zagora- Mhamid Day4:M���¢�¯�¿�½�¯�¿�½hamid-Zagora-Draa valley Day5: Draa- Merzouga Day6: Merzouga- Dades valley Day7: Ouarzazate- Ait Ben Haddou Day8: Marrakech General information: - Staff: guide & drivers -Activities: Safaris/ culture/ walking -Group size: minimum 2 -Accommodation: Riads/hotels/Bedouin camp/ Kasbahs -Portage: 4x4/ bus/ camels -Arrival: Marrakech prizes atrt from 1050.00 euros per person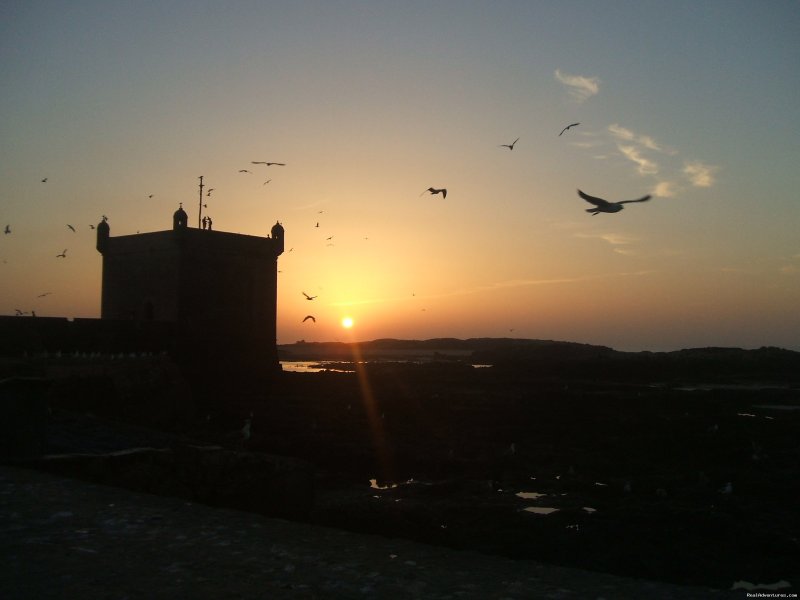 Escapes to Essaouira (#12/24)
Trip-dossier: Morocco's age old port mixes mystical Gnawa���¢�¯�¿�½�¯�¿�½s traditions, hippy myths, surf hangouts and a thriving life with history and fishing ports. Only 168 km from Marrakech, it is there where the building stop being red, ochre or pink and switch to blue and white- the colours of earth and vegetation displayed by the colours of sea and sky. This elemental reorientation is matched by a change in climate. Where Marrakech is hot and arid, Essaouira is subject to winds that keep at bay the searing temperature of the interior. It has become in few years the most favoured coastal town since it both offers contrast and an escape. Essaouira has managed to retain a laid back timelessness rarely felt in the seething streets of the busy cities. It is a relaxing place and a charming one too. GENERAL TIPS: 1. When you arrive at airport get some change before you ask for a taxi transfer���¢�¯�¿�½�¯�¿�½s prizes. 2. For those who plan to stay in Morocco a bit longer, buy a cheap mobile phone for local and national calls. 3. The daytime is on the whole nice but often windy and we would recommend bringing something cool and light to use as a cover up with a wind-stopper! For evenings out in Essaouira bring a long (but light) pair of pants or skirt in case it is cold. We would say a smart jacket or cardigan is also essential for warmth on cooler nights 4. Bring an extra suitcase, in case you decide to purchase a famous Moroccan room-size rug or other items in one of the very few Morocco���¢�¯�¿�½�¯�¿�½s free of hassle markets. 5. Despite the cold waters of the sea, one can enjoy a swim on the coast. ESSAOUIRA���¢�¯�¿�½�¯�¿�½S BEST VIEWS ���¢�¯�¿�½���¢ A day trip to Sidi Kaouki for some great waves and serene seaside walks ���¢�¯�¿�½���¢ Horse or camel rides for some great fun on the city���¢�¯�¿�½�¯�¿�½s beach ���¢�¯�¿�½���¢ A wander amongst the alleyways, souks, fish market and Jewish quarter and later on chill-out on a terraced caf������© ���¢�¯�¿�½���¢ Organize a cooking lesson in one of the kitchens built for the same purpose ���¢�¯�¿�½���¢ Sunbathe on the beach, surf or kite surf near the seaside of the city. WHERE TO PLAY 1. Cooking Workshops and before that an expedition into local markets. 2. Ethno art shop, around the souks and alleyways where craftsmen workshops thrive 3. Place Moulay Hassan is the social centre where you can watch the theatre of the medina unfolding 4. Quad bikes outside the city on the seaside 5. The narrow alleyways leading to the Squalla, sit on top of the ramparts or north bastion for some romantic or contemplative moments. 6. Hammams and some scrub in a traditional way 7. The Mellah or Jewish alleyways 8. The Souks with butchers, vegetables and fish or even spices or herbalists stalls are worth a wander 9. The beaches around Diabbat , ideal for windsurfing How to Get Around ���¢�¯�¿�½���¢ Get a certified and licensed city guide to show you around, explain properly the cultural sides of your tour and serve as a shield against the hustles of the market place vendors. ���¢�¯�¿�½���¢ The smallness of the city is an advantage to explore the ensemble without much need of means of transport. Cars or taxis are not allowed in the medina which is an eco friendly way to keep the air cleaner ���¢�¯�¿�½���¢ The Petit Taxis have meters but the drivers tend to forget using them with tourists. It is always good to negotiate the price in advance, but keep in mind that at night, the prices are 50% more than during the day. WHERE to Eat Families: ���¢�¯�¿�½���¢ The best budget lunch is fresh charcoal-grilled and eaten on the quayside. Dozens of stalls serve varied fresh fish for some reasonable prizes ���¢�¯�¿�½���¢ Attached to the beachfront some quite interesting bars, restaurants and cafes with terraces overlooking the sands. Romance: ���¢�¯�¿�½���¢ In a prime location the Taros F has several floors which has several things on offer but essentially the best view in town and a live music performance ���¢�¯�¿�½���¢ For a Buddha Bar ambiance in well managed Riad The Patio is certainly the evening place with a great selection of food and trendy music. ���¢�¯�¿�½���¢ Madada has certainly more French than Moroccan, yet the address is worth try when all possibilities are over. They also started cooking lesson which you can combine for some change. SPECIAL EVENTS: PECIAL EVENTS ���¢�¯�¿�½���¢ The Gnawa music festival is described as the world best jam session. Around every June thousands of world music fans gather to celebrate former slaves���¢�¯�¿�½�¯�¿�½ chants mixed with Jazz and rock artists���¢�¯�¿�½�¯�¿�½ performances. The stages become a theater displaying vibrant color and abounding live rhythms of great invigorating sensations. ���¢�¯�¿�½���¢ The festival des Aliz������©es is a mix of Hispanic, Andalusian and Arabic music where artists from Spain, South America and Morocco find common cultural and historical grounds. 1- How to get to Essaouira 1-1 Flight access The little Mogador airport runs twice a week flights from Casablanca. Yet some regular ones will be added on list and the city will benefit from the low cost future plans. Wherever you decide to fly to our local staff will help you through the airport check out. If you extend your trip to one of our suggested itineraries you will be assisted by our rep too. Our leader will drop a note about where and when to meet him for an individual or group briefing. * We arrange also transfers by bus or grand taxis from all airports to get to Essaouira. *** prizes on request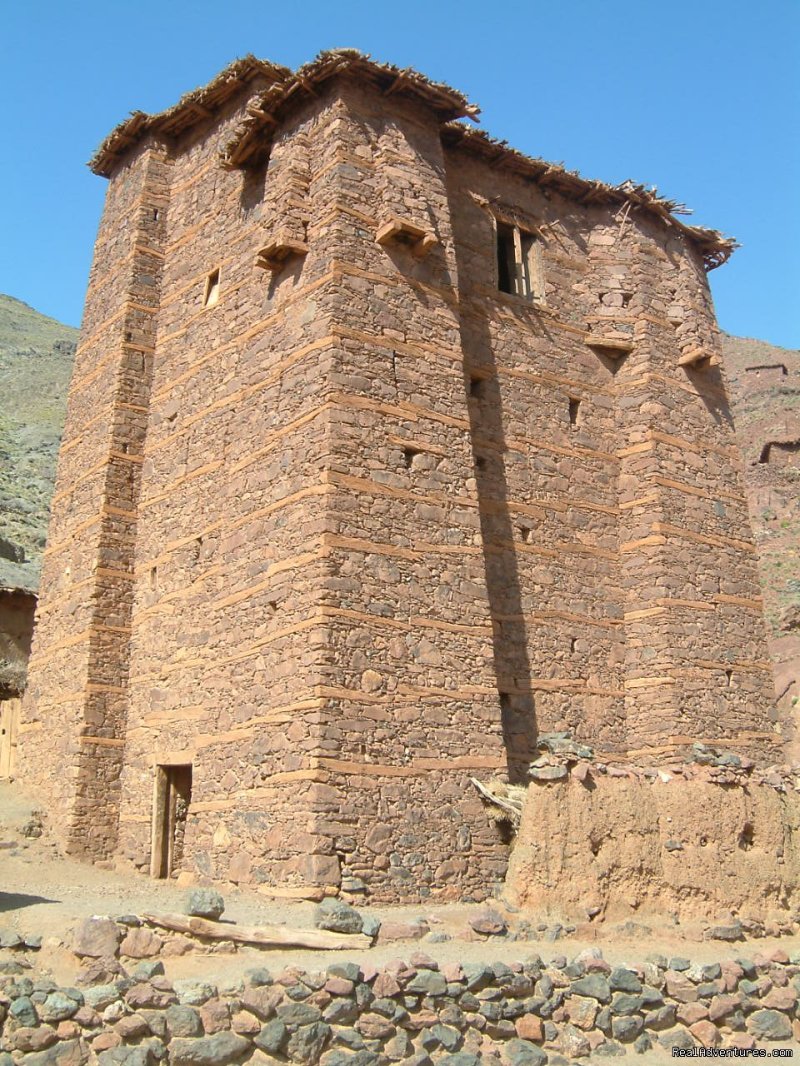 Marrakech Express (#13/24)
Trip-dossier: Marrakech is Morocco intoxicating city of duality. Streets are dotted with both ancient and modern buildings. Snake charmers sit outside refined palaces. Bustling marketplaces sell all kinds of wares, and the mysterious Medina (old town) contains nearly two miles of secret passages. Mopeds, mules and Mercedes dart around the city, yet time seems to have slowed down, and the locals pause to make connections with others. Musical events may not be formal and organized, but it's easy to find yourself swaying to the beat of an impromptu gathering of singers and musicians in the square. Marrakech has a sunny and warm climate. Average winter temperatures are near 22, though the nights can be cold. Spring and fall are the ideal months to visit, with pleasant temperatures and little rain. Summers could be very hot, but dry. It is however a very pleasant place to make feel you safe despite the first impressions of chaotic city. Luckily, you can hide away in a Riad, fantastic harbours of peace and these days most popular choice of accommodation. GENERAL TIPS: 1. When you arrive at airport get some change before you ask for a taxi transfers prizes. 2. For those who plan to stay in Morocco a bit longer, buy a cheap mobile phone for local and national calls. 3. The daytime can be very hot and we would recommend bringing something cool and light to use as a cover up to stop your skin from blistering! For evenings out in Marrakech bring a long (but light) pair of pants or skirt in case it is cold. We would say a smart jacket or cardigan is also essential for warmth on cooler nights 4. Bring an extra suitcase, in case you decide to purchase a famous Moroccan room-size rug or other items. MARRAKECH BEST VIEWS -A day trip south to Imlil, the highest point in the -Atlas Mountains, is quite rewarding and awesome. -Atlas Mountains, outside fantastic drive away to Ourika, oukeimeden and Takerkoust lake -A day trip to Essaouira for some fresh and breezy strolls on the beach, the squalla and the little fish market. -A day trip To Ouzoud, Morocco's highest waterfalls WHERE TO PLAY 1. Cooking Workshops and before that an expedition into local markets. 2. Ethno art shop, around the souks and alleyways where craftsmen workshops thrive 3. Jemaa el Fna (Place of the Dead), the famous square and a stage for some voices, actions and fantastic night life 4.Quad bikes outside the palmeraie 5.Koutoubia Mosque and Minaret, the oldest in town and most impressive Almohads building. 6.Hammams and some scrub in a traditional way 7. Majorelle Garden (Jardin Majorelle), the city's best preserved garden 8.Museum of Marrakesh, Place Ben Youssef most notorious coranic school or university 9.Marrakech Souk opening onto Jemaa el Fna 10.The Jewish quarter and the sole synagogue still in function FAMILIES -The Bahia palace, formerly owned by a vizier is now open to show the best of Moroccan arts of mosaics, fountains, cedar ceilings and roofs. A building not to miss. -The Museum of Marrakech is a restored 19th-century riad with stunning examples of zellij tile work. The museum houses art that you cannot buy, as well as historic artifacts. The centerpiece is the huge covered courtyard, which has traditional wrought iron and possibly the largest chandelier/lamp, at least, in the city. -The Museum of Moroccan Arts (Dar Si Said) is a palace from the 19th century that serves as a good example of traditional Moroccan architecture. Inside, the museum displays artifacts from the private collections of former sultans and viziers. -Badi Palace's main attraction would definitely be the storks; they seem to have taken over as the occupants on the palais instead of the Saadians from hundreds of years ago. If you go up the ramparts onto the roof, you can get a good view of them and the Atlas snow capped mountain in winter ROMANCE -Koutoubia Mosque and Minaret is beautiful at night. Definitely worth taking pictures of the minaret and, if possible, to visit the mosque! The best in Marrakech is to rent one of those horse drawn caliches and tour the city ramparts and main outskirts by night. -After dusk, Jemaa el Fna square comes alive with musicians playing drums, mandolins, flutes and a variety of other instruments. In particular, listen to a performance of Gnaoua, a Moroccan-bred genre of trance music that combines many African styles, watch the biggest outdoor restaurant impressive build up from scratch from the top terraces of one of those cafes around. -Arsat Moulay Abdeslam Cyber Park,eight hectares of ancient parkland that, despite its proximity to the bustle of the Medina, is quiet and refreshing! The park has had a 21st-century overhaul. Several internet booths were installed; they are very cheap, efficient and seemingly underused. -Get lost in the maze of shops at the Marrakech Souk. A great shopping experience in the meandering alleyways of the medina! Be prepared to bargain, bargain hard and bargain with a smile. Take a handful of sweets to hand out to the children, and you will endear yourself to one and all. -Escape the bustle of the Medina and take a camel trek or a 4X4 excursion. The Berber Valleys of the High Atlas Mountains are only about one hour drive from the city and you will find yourself amidst stunning villages, spectacular scenery and very welcoming people. -The walk to the Marrakech Square is an adventure in itself. When you come out of the riad, there is a road with no pavement and you have to watch for donkeys overtaking people, bikes overtaking donkeys, motorbikes overtaking bikes, then taxis overtaking all of them all at the same time. -The royal palace of Marrakech, Dar el Makhzen, is located on the Place de la Kasbah, and houses a large collection of Moroccan art dating from the 17th century. The ceiling frescos, plaster sculptures and detailed mosaics are definitely worth a look, as are the luxurious silks and carpets on display -A walk through the Medina of Marrakesh (old town) is a must. it is probably the only way to explore the true Moroccan culture. it is best to start at a fixed point in the Medina, such as one of the main gates, and head to one of the main sites, such as the Koutoubia, so that you can ask people for directions while also exploring -Rejuvenate in the calm location at a Spa. The spa is an absolutely magnificent place where to relax at some of them offer very professional services. - Marvel at the colorful tiles and relax in the outdoor gardens of the Saadian Tombs, hidden away down a tiny alley that opens out to a peaceful area with a nice sanctuary of very peaceful feel. How to Get Around -Get a certified and licensed city guide to show you around, explain properly the cultural sides of your tour and serve as a shield against the hustles of the market place vendors. -The hop on hop off bus option is quite common to operate a tour around Marrakech, one ticket available all the way and can be used 48 hours. -The Petit Taxis have meters but the drivers tend to forget using them with tourists. It is always good to negotiate the price in advance, but keep in mind that at night, the prices are 50% more than during the day -In Marrakech, you will also find about 300 caleches, or small horse-drawn carriages. These provide a good way of seeing the city, and can be found most easily at the Square de Foucauld near the Jemaa El Fna. Again, it is a good idea to ask about the price of the ride beforehand. WHERE to Eat Families: -A night at Dar Essalam. There is a band of three musicians playing excellent music during the night, and a couple of belly dancers added to the occasion, too. -Kasbah La Rotonda boasts spectacular decoration, with very good live music and amiable, attentive service. Great quality and quantity for a good price. -Dar zellij, magnificent Riad converted into a restaurant where you can savour some of the finest music and great food -Chez Ali Fantasia is VERY touristy, but memorable. They serve big meals and have a unique mega show of dancers, horse riders and big fanfare. Romance: -For a refined and elegant Thai dining experience in Marrakesh, I recommend Bistro Le Saveur. The indoor poolside section has a casual, yet cultivated Thai-Vietnamese style. -Narwama is an excellent restaurant for that special occasion. The menu offers a marvelous fusion of traditional Moroccan dishes and Thai curries, plus an excellent range of desserts. -Le Tobsil is almost impossible to find but well worth it when you do. This is an incredibly romantic restaurant a covered courtyard with the tables set on two floors. There are musicians, candles, rose-petals and orange flower water sprinkled before eating -At night, Jemaa el Fna metamorphoses into the largest open restaurant in town. Many stalls sell Moroccan foods all night long. You' ll like the ambiance -Catanzaro is a great cheap Italian restaurant. Nothing special to look at on the outside, but full of locals either eating or ordering takeaway! -Chez Chegrouni is not the smartest of places, but you can get a good view of the comings and goings of the square and eat fairly cheaply. I ate there twice last week and enjoyed the experience. -Enjoy delicious vegetarian and vegan organic delights at Earth Café more than just a cafe. It is a comfortable place for guests to relax and enjoy. Chilled music, good menu and reasonable prices, generosity and a warm welcome -At Riad Des Mers, enjoy fresh seafood and only seafood, including the best oysters we have tasted in a long time -Learn to make a healthy Moroccan meal for yourself! You can join La Maison Arabe, a beautiful farmhouse in lovely gardens on the fringe of the city, chat, drink wine and thoroughly enjoy yourselves. And you can manage to learn how to cook a two course Moroccan meal, which you will enjoy by the pool afterwards. -Very close option to the medina is Dar Cheriffa; a sixteenth century Riad turned into a café literaire with a show room but organizes cooking lessons on request. Great location with a very smooth ambiance. -With delicious food, live music and elaborate dancing, Comptoir Darna is a must do in Marrakech -At Dar Moha after trawling the back alley for some time in the medina alleyways fabulous meal is at hand. -The fantastic Yacout is a Moroccan restaurant deep in the Medina. The roads are only the width of the car, so do not get worried and wonder where the taxi is taking you. It is a popular place, so booking as soon as you arrive in Morocco to find a table SPECIAL EVENTS: -The garden becomes a theater displaying vibrant color and abounding life during the Festival de -The international film festival of Marrakech is the certainly the biggest around the country and gathers some international celebrities each year around fall time creating an amazing ambiance and great movie shows. -Haute couture meets Eastern elegance at Caftan du Maroc, an annual fashion show of the Moroccan caftan. Showcasing cutting edge interpretations of a traditional dress, the festival proves that the caftan is much more than a piece of clothing it is a piece of art. (May 2) -From El Badi Palace to Jemaa El Fna and all of the souks and streets in between, Marrakech whirls into fervent life during the annual two-week Festival des Arts Populaires de Marrakech, featuring international and Moroccan performers, outdoor theater, poetry, traditional music, Gnaoua performances, Berber musicians, belly dancing and all things Moroccan. (July 13 / 28) - Cultures come together to the beats of reggae, dub, hip hop, electronic, world and fusion music at the Festival des Calèches. - Discover new music, or smashups of existing music, at this intercultural jam session. (August 1/ 30) **** prizes on request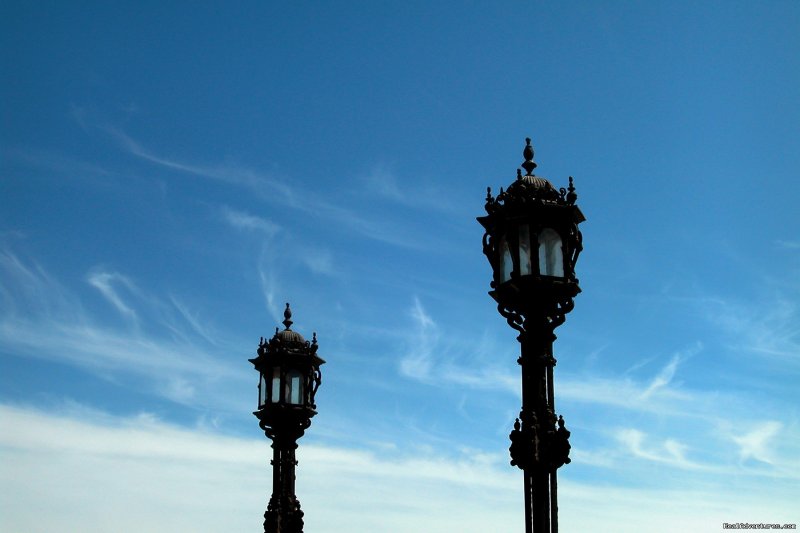 the golden tagine/ gourmet trip (#14/24)
Trip-dossier: These particular tours offer cooking lessons and workshops held in a purpose-built teaching kitchen in a small house, riad or just in the outdoors depending on our itinerary. Each session is preceded by a brief stop where participants, accompanied by the cook or the tour guide, are invited out on shopping expeditions to the local produce market. Once in the place they will get an introduction into the real Moroccan cuisine and the dishes being prepared. If your ideal way to visit Morocco is a combination of cookery lessons, cultural and adventurous outings contact us since we made forays into unique places where you can both make your own and taste the finest of the real Morocco and the finest of its cuisine. ITINERARY: -Day1: Marrakech souks- cooking Tanjia in a Riad -Day2: day trip to Imlil- cooking a Berber tagine -Day3: El jadida- explore the fish market- -Day4: Essaouira- Argan & fish meal -Day5: Agadir - Mirleft- fish or Goat Tagine -Day6: Tafrawt- walks around- -Day7: Tafrawt-couscous & bread -Day8: Tata - Talsint walk and meal -Day9: Zagora- Bedouin camp- nomad meal -Day10: explore the Draa valley -Day11: Ouarzazate- Ait benhaddou- -Day12: Marrakech- explore the city INFORMATION: - Activities: cooking- walking- culture - Duration: 14 days - Group size: 4 to 10 participants -Accommodation: Hotels/ Riads/ Auberges/Bedouin. prizes start from 1320.00 euros per person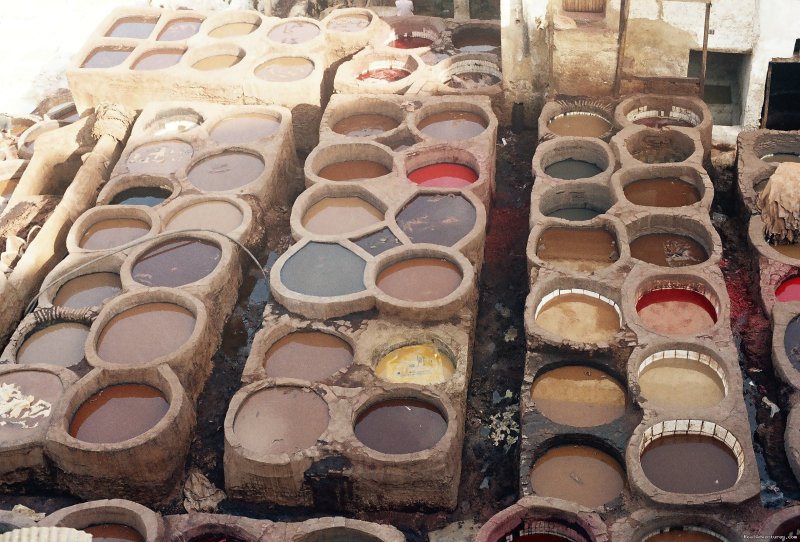 Enchanting morocco (#15/24)
Trip-dossier: Through some dreamy excursions into the south-west and south-east parts of Morocco this trip offers the visitor a genuine shock of the exotic. We meander in between the coastal fishing little harbours, the barren open spaces of the Sahara and the burned mountains, red-clay villages that seem to have grown from the earth, and the valleys that throng along the rivers that bring turbans of verdure with their string of thick palm oases where fantastic communities still hang out. Fact file: ITINERARY: Day1: Marrakech Day2-3: El Jadida - Azemmour Day4: Essaouira Day5: Immouzzar Day6: Agadir- Tiznit- Merleft Day 7: Tafrawt valley Day 8: Zagora Day 9: Draa- Tazarine- N���¢�¯�¿�½�¯�¿�½kob-Tinrhir Day 10: Dades-Mgouna-Ait Benhaddou Day 11: Taroudant Day 12: High Atlas- Imlil/ Ouirgane Day 13: Marrakech General info: Transport: Bus/ camel ride Tour staff: local tour guides- drivers- camel boys Accommodation: riads/ hotels/ Bedouin camp Food options: B&B/ full or half-board Group size: minimum 2 Activities: driving/ walking/ camel-riding prizes start from 1360.00 euros per person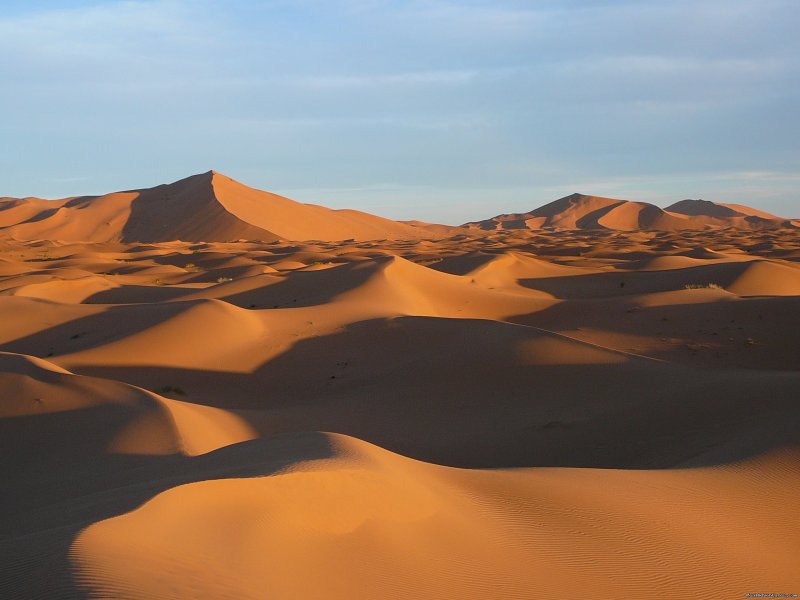 The kasbah route (#16/24)
Trip-dossier: Southern Morocco has long attracted visitors in search of a break from the gloom of winter. Dotted across the country are a group of hosters who have coaxed delightful resting places into being. So many hideaways now luxuriate in the tranquility of their spot offering times of mirthful recovery. This journey takes you over charming Kasbahs around the spectacular landscapes of the Sahara. Fact file: Day1: Marrakech- Taroudant Day2: Taroudant - Zagora Day3: Zagora- Mhamid Day4:M���¢�¯�¿�½�¯�¿�½hamid-Zagora-Draa valley Day5: Draa- Merzouga Day6: Merzouga- Dades valley Day7: Ouarzazate- Ait Ben Haddou Day8: Marrakech General information: - Staff: guide & drivers -Activities: Safaris/ culture/ walking -Group size: minimum 2 -Accommodation: Riads/hotels/Bedouin camp/ Kasbahs -Portage: 4x4/ bus/ camels -Arrival: Marrakech prizes start from 1220.00 euros per person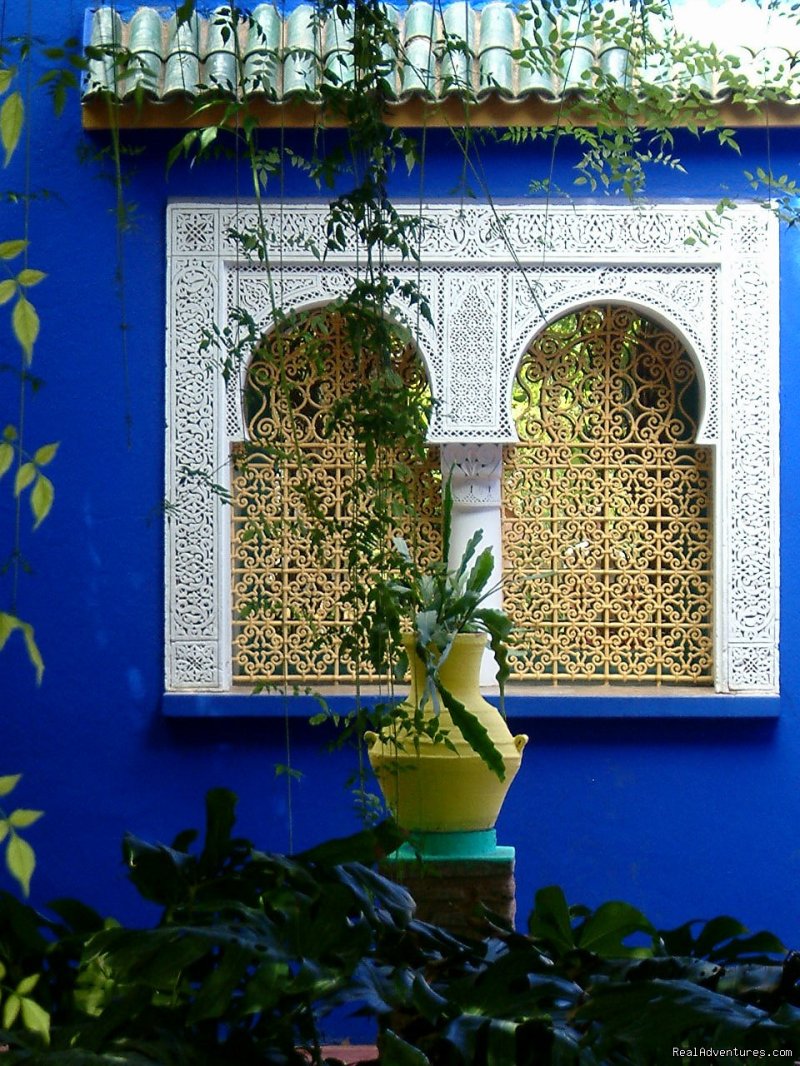 Moroccan mosaics (#17/24)
Trip-dossier: To soak up the legendary magic of Morocco by touring some of the country���¢�¯�¿�½�¯�¿�½s most important monuments in the easy going cities and tour the picturesque coastal towns with their sea life, small villages and great history. It is an invitation to chill out at peaceful places with remarkable cuisine and character. On the other side we step back and hang loose in the pretty laid back towns set against some dramatic sceneries before beating the hustle and hassle of all vibrant markets and public places. Trip-dossier: ITINERARY: Day1: Casablanca- Rabat Day2: Rabat- Asilah- Chefchaouen Day3: Chefchaouen- Fes Day4: Fes city tour- Day5: volubilis- Meknes Day5: Meknes- Erfoud Day6: Desert tour at bedouin camp Day7: Tinrhir- Dades valley Day8: Ouarzazate- Ait Benhaddou Day9: Taroudant Day 10-11: Agadir-Essaouira Day 12- 13: Marrakech GENERAL INFO: Transport: Bus/ camel ride Tour staff: local tour guides- drivers- camel boys Accommodation: riads/ hotels/ Bedouin camp Food options: B&B/ full or half-board Group size: minimum 2 Activities: driving/ walking/ camel-riding prizes start from 1130.00 euros per person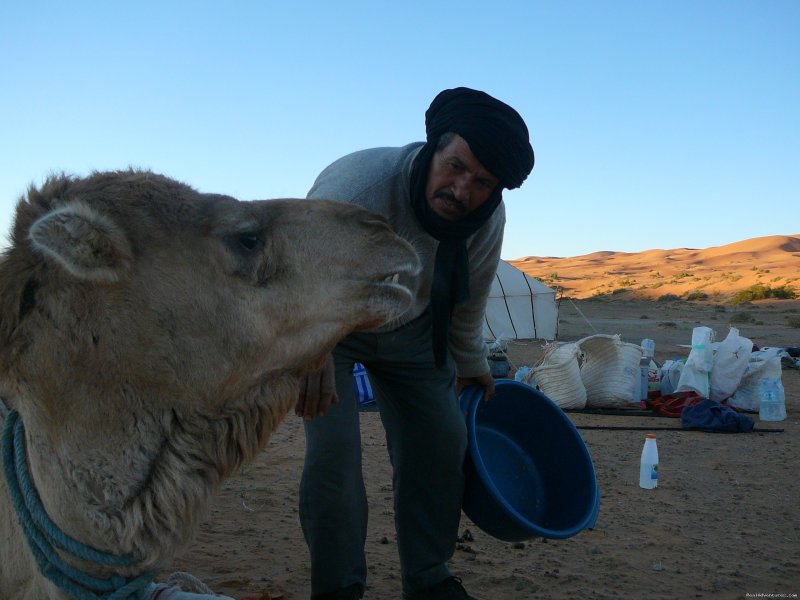 the golden dunes of Merzouga (#18/24)
Trip-dossier: For its classical sunrise, many will certainly head for the Merzouga dunes and the Tafilalt date palm grove that this corner holds as one of Morocco���¢�¯�¿�½�¯�¿�½s greatest sights. With its reddish waves of desert encroaching from the east and its dawn���¢�¯�¿�½�¯�¿�½s first light begins to brighten the rim of the Sahara, Merzouga has somehow more uplifting sunrise than anywhere else. Adding to this, the Tafilalt oasis on the drive back through Dades valley seems doubly miraculous after the desert effect .The lush green valley with all the date palmery is simply stunning. Fact file: Day1: Marrakech/ Ouarzazate/ Dades Day2: Tinrhir/ Tinjdad/ Rissani/ Merzouga Day3: Back to Marrakech General information: - Staff: guide & drivers -Activities: Safaris/ culture/ walking (easy/moderate) -Group size: minimum 2 -Accommodation: Riads/hotels/Bedouin camp -Portage: 4x4/ bus/ camels -Arrival: Marrakech prizes start from 490.00 euros per person.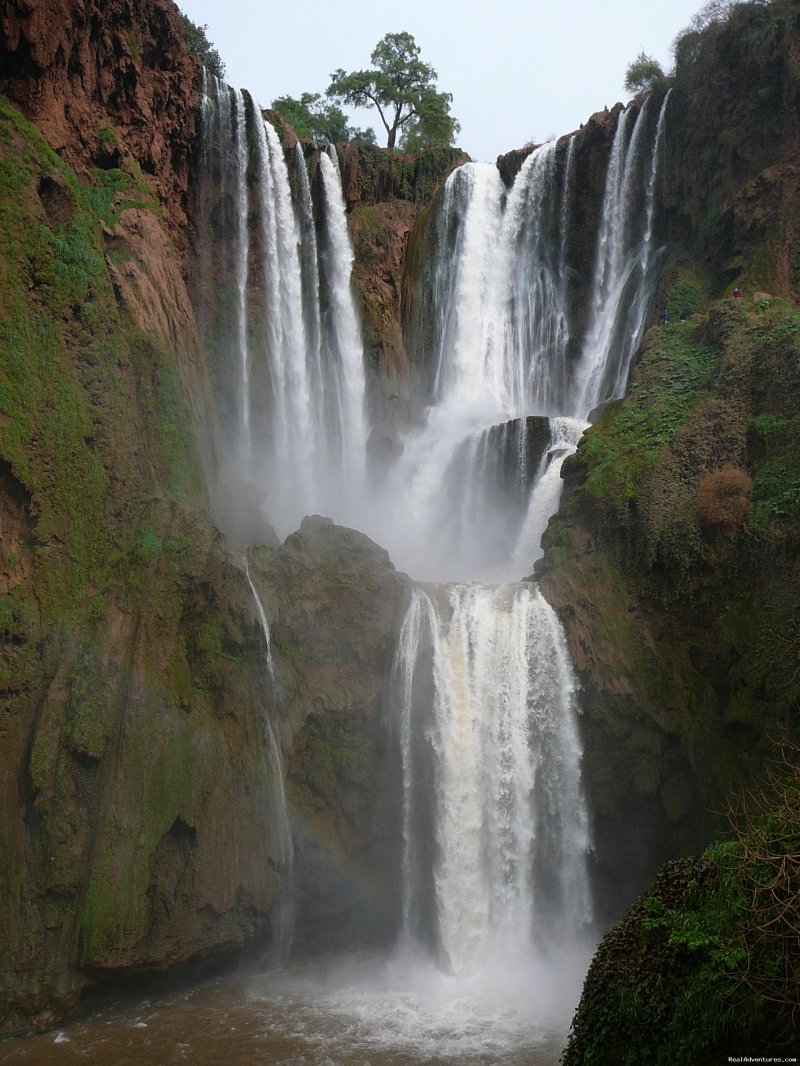 Mgouna winter (#19/24)
Trip-dossier: A winter special walk through Morocco���¢�¯�¿�½�¯�¿�½s widest and biggest mountain range and toughest summit ascent. Winter here offers some of the most rewarding treks and spectacular winter powder skiing. It remains so far one the greatest alpine recreations throughout the whole country. Fact file: Itinerary details: Grade: strenuous/tough Period: December/ March Themes: Adventure/ trek/ powder skiing/ culture Fitness: clients are required to prove their fitness form and sign a waiver of liability form before starting the tour. Mode of transport: 4x4/ bus/ mules/ porters Accommodation; Riads/ hotel/ gites d���¢�¯�¿�½�¯�¿�½etapes/ refuges/ tents Guides: expert local tour guides Family option: NO Group size: 4 ���¢�¯�¿�½�¯�¿�½ 10 prizes start from 670.00 euros / person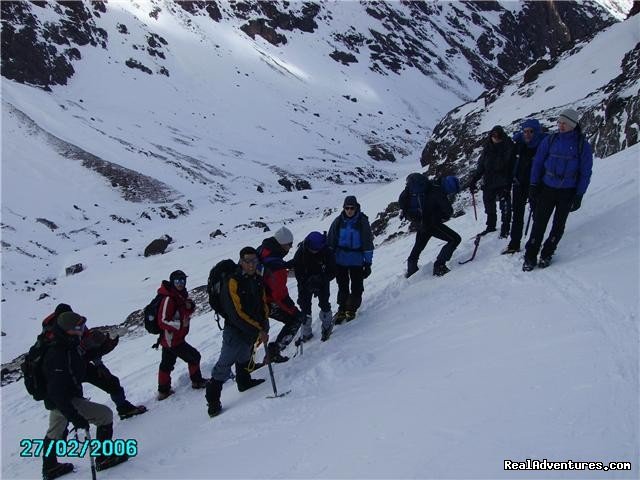 classical toubkal (#20/24)
Trip-dossier: A classical round about Toubkal range and summit trekking its most spectacular villages and main sites. It offers a great deal of satisfaction and diversity of this popular range. Fact file: Type: trekking/discovery/ Cultural Grade: strenuous Accommodation: hotel/ Riad/ camping/ guesthouse Portage: mules/ bus or 4x4 Team: guide/ drivers/ muleteers/Cook Flight arrangement: Marrakech Period: April- October Duration: 7 days ITINERARY: Day1: Marrakech-Imi Ourhlad- Tizi oussem Day2: Neltner Hut Day3: Toubkal summit- Ifni lake Day4: Tamsouzart- Timichi Day5: Assif Ait boulmane Day6: Iaabbassen- Tacheddirt Day7: Back to Marrakech. prizes start from 490.00 euros / per person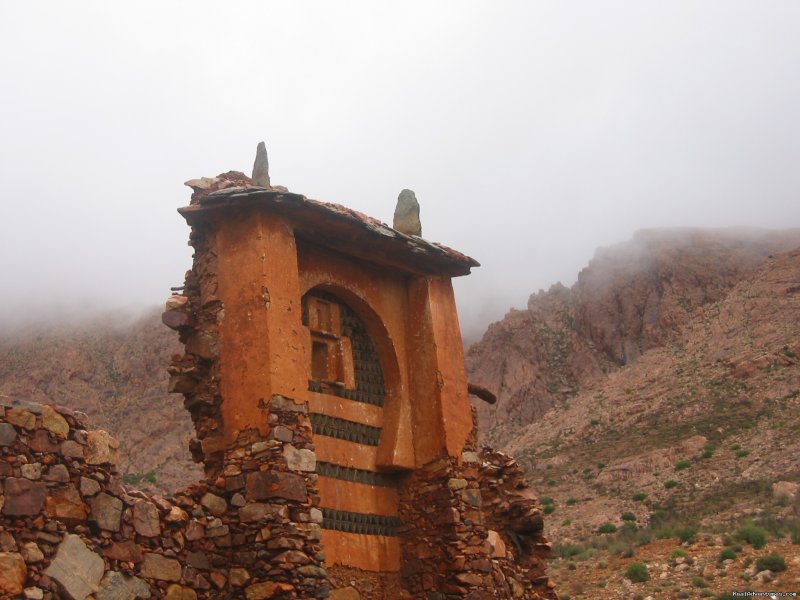 Pinnacles and butes of Sarhro (#21/24)
Trip-dossier: The essential of a walk amidst this volcanic bazaar at the heart of some fabulous geological formations, lush green belts punctuating the wadis and small terraces of these nomadic territories. Fact file: Itinerary: Day 1: -MARRAKECH-HANDOUR. Day 2: -HANDOUR -BERKIK. Day 3: -BERKIK-IRHISSI. . Day 4: -IRHISSI -IRHAZZOUN (1300m). Day5:- IRHAZZOUN-BAB N���¢�¯�¿�½�¯�¿�½ALI. (1400m) Day6: - BAB N���¢�¯�¿�½�¯�¿�½ALI -IGLI (1200m). Day 7: -IGLI-ASSIF N���¢�¯�¿�½�¯�¿�½OUAREG (2100m). Day8: - TAGDILT. Information: -Grade: easy to moderate -Activities: walking/ culture -Team: muleteers/ tour guide/ cook -Portage: mules/ bus - Group size: 4- 16 -Duration: 8 days -Accommodation: Riad/ hotel/camping -Period: September to May prizes start from 580.00 euros/ per person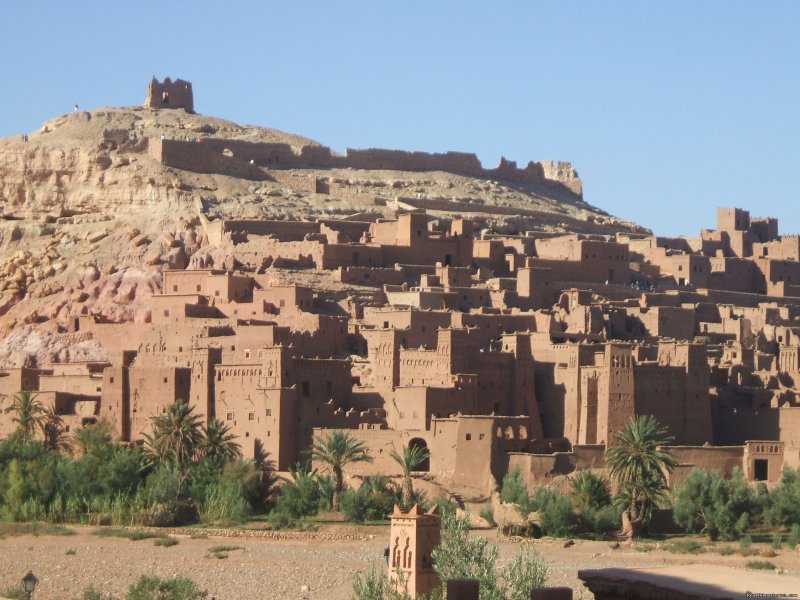 the hidden trails/ 4x4 safari (#22/24)
Trip-dossier: The most exciting way to see the Atlas is also by driving through hills, mountainous roads and Berber villages & valleys. Many surprising sights and breathtaking views open off every turn offering a rich diversity and unique encounters of medieval and still unchanged ways of living. ITINERARY: Day1: Marrakech, Day2: Skoura via Demnate, Day3: Dades valley via Boutarhrar, Day5: Merzouga via Rissani, Day 6: Zagora via Taouss and Tazarine, Day7-8: Mhamid and Cheggaga dunes, Day8: Taliwine via Foum Zguid, Day9: Tizi N'tast to Marrakech. THEMES: ���¢�¯�¿�½���¢ Exploration and Adventures ���¢�¯�¿�½���¢ Cultural encounters ���¢�¯�¿�½���¢ Walking and camel riding SLEEPING ARRANGEMENTS: Riads, Kasbahs, auberges, gites d'etapes, hotels, local houses & bedouin camping tents. MEANS OF TRAVEL: 4wd (Toyota / Nissan/ Hyundai FLIGHT ARRANGEMENT: Marrakech/ Casablanca prizes start from 1130.00 euros/ per person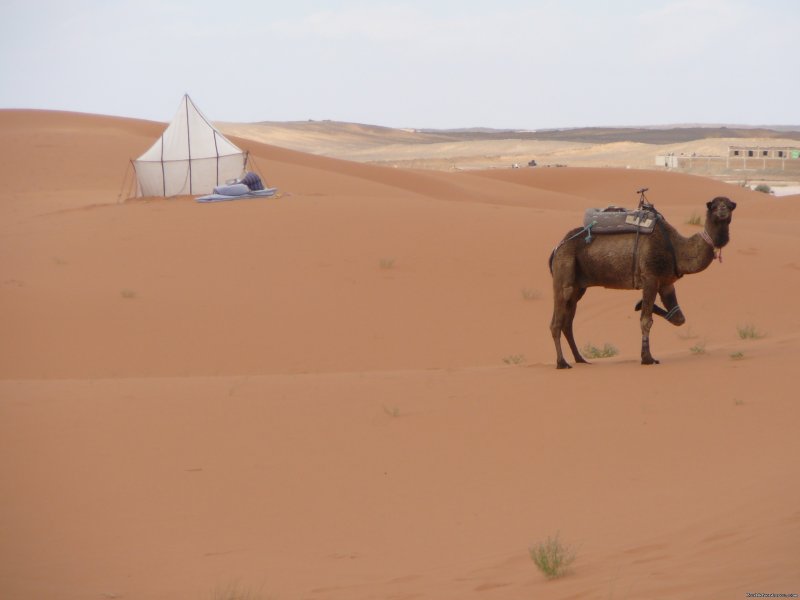 backroads of Morocco/ 4x4 drive away (#23/24)
Trip-dossier: A drive through Morocco's most popular off-road hidden corners. You set off south of the Atlas range and cross the central part, south-east slopes and valleys before you head off east to the Saharan dunes and ergs. Few days later you pass through the Anti Atlas southern villages, small fishing ports and Atlantic coastal towns and end up in the bubbling magic of Marrakech. Fact file: Itinerary: Day1: Marrakech, Day2: Tilguit, Day3-4: Bouguemez, Day5: Skoura, Day6: Boutarhrar, Day7: Dades valley & Imilchil, Day8: Merzouga, Day9: Tamnougalt, Day 10: Chaggaga dunes, Day 11: Tata and Talsint palmeraie, Day 12: Tafrawt & Ait Mansour valley, Day13: Mirleft and surroundings, Day14: Essaouira, Day15: Imlil, Day 16: Marrakech. Themes: ���¢�¯�¿�½���¢ Exploration and Adventures ���¢�¯�¿�½���¢ Cultural and tribal encounters ���¢�¯�¿�½���¢ Social activities ���¯�¯�¿�½���§ Sleeping arrangements: Riads, Kasbahs, auberges, gites d'etapes, hotels, local houses & camping tents. ���¯�¯�¿�½���§ Means of travel: 4wd ( Toyota/ Nissan/ Hyundai ���¢�¯�¿�½���¦) ���¯�¯�¿�½���§ Flight arrangement: Marrakech/ Casablanca prizes start from 1340.00 euros per person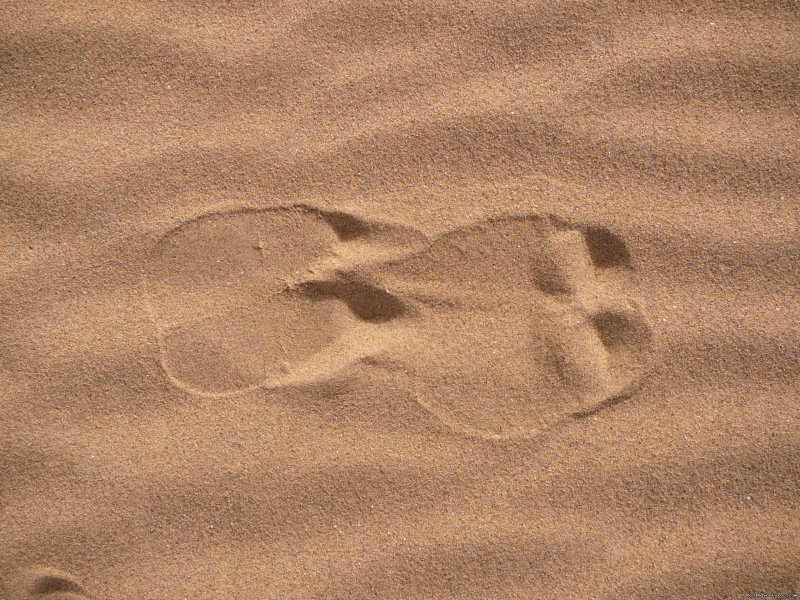 The bald ibis / birding trip (#24/24)
Trip-dossier: Morocco is a land of great contrasts, from wide sandy Atlantic beaches to snow-capped mountains over 13,000 feet high, to sand and stone deserts. The birds are equally diverse, from rare and highly endangered species like Northern Bald Ibis to enigmatic and difficult species like Desert Sparrow. Fact file: Day 1: Scheduled flight to Casablanca and transfer to T������©mara Plage for a two-night stay. Day 2: We start our tour with a visit to the Zaers, a region of remnant Cork-oak woodland. The specialty of the area is an isolated population of Double-spurred Francolins but they are not easy to see and our chances are only even. However, we stand a good chance of other specialties, including Black-shouldered Kite, Long-legged Buzzard, African Blue Tit and Black-crowned Tchagra. We will also see many other species with less-restricted ranges including Sardinian Warbler and European Serin. We will next visit the superb Lac de Sidi Bourhaba that supports two of the special birds of Morocco: Crested Coot and Marbled Duck. Also in the area are Purple Swamphen, Cetti���¢�¯�¿�½�¯�¿�½s Warbler, Western Marsh-harrier and many wintering duck species. The rest of the day is spent at Merdja Zerga, where we will look for Marsh Owl, which has its only Western Palearctic outpost in Morocco. We spend the night in Moulay Bousselham. Day 3: Driving south-east to Midelt, we stop firstly to search for the tiny Plain Martin and then at excellent sites in the Middle Atlas for Levaillant���¢�¯�¿�½�¯�¿�½s Woodpecker and Ruddy Shelduck. We will check into our hotel in Midelt for one night. Day 4: We leave early to search for Dupont���¢�¯�¿�½�¯�¿�½s Lark at Zeida. This very difficult high-plains species is infamous for disappearing amongst the tussocks. During our walk we should see Lesser Short-toed Lark and Red-rumped Wheatear. Afterwards we head south to Erfoud. En route we may see Eurasian Crag-martin, Desert Lark and Black and Mourning Wheatears while, in a spectacular gorge, Rock Bunting, Blue Rock-thrush and Black Redstart can be found. We will end the day looking for birds in the oasis garden of our desert hotel. Two nights in Erfoud. Day 5: An early morning start to drive further into the desert. We should soon encounter Brown-necked Ravens as we head out on tracks to the dunes to eventually arrive at one of the ���¢�¯�¿�½�¯�¿�½cafes���¢�¯�¿�½�¯�¿�½ which dot the area. Here we will start our search for the highly sought-after Desert Sparrow. By visiting all of the cafes that overlook the spectacular Erg Chebbi sand-dunes, we stand a very good chance of finding these birds. All around in the desert are various larks including Bar-tailed and Hoopoe Larks. White-crowned Black Wheatears are common, with Desert Wheatear less so, and we may see a Cream-coloured Courser or a Mourning Wheatear. In the cultivation around the desert village of Merzouga there are Fulvous Babblers, and African Desert and Tristram���¢�¯�¿�½�¯�¿�½s Warblers may be found in patches of sparse vegetation. If rains have been plentiful a seasonal lake near Merzouga can be very interesting, with ducks, waders and their attendant raptors. Some real rarities have turned up here including Kittlitz���¢�¯�¿�½�¯�¿�½s Plover. We will also search for the charismatic but elusive Thick-billed Lark. Day 6: An early morning start is essential today as we have a long journey west. We will stop at a number of sites looking for Trumpeter Finch and other species until we reach the Todra Gorge, where Blue Rock Thrush and Eurasian Crag-martin occur and we will have a chance for raptors including Bonnelli���¢�¯�¿�½�¯�¿�½s Eagle. We continue on to our destination, Boumalne du Dades, for an overnight stay, but not before a visit to the Tagdilt Track. The stony desert here is at quite a high altitude. Larks are well represented with Desert, Lesser Short-toed, Hoopoe and Temminck���¢�¯�¿�½�¯�¿�½s Lark. Desert and Red-rumped Wheatears also occur, and we may also see numbers of sand grouse flying around the area, predominantly Black-bellied but sometimes with a few Crowned or Pin-tailed Sand grouse. Trumpeter Finches are widely distributed and Cream-coloured Coursers may well be present. Day 7: The direction today is west down into the Sous Valley towards Agadir. Passing through Ouarzazate we will keep our eyes open for various larks by the roadside together with Southern Grey Shrike and Hoopoe. In the hottest part of the day we are in the right area for raptors, with Black-shouldered and Black Kites and Barbary and Lanner Falcons all possible, although there is little likelihood of the rare Tawny Eagle and Dark Chanting-goshawk. Over the town of Taroudannt there may be Pallid and Little Swifts. Three nights in Agadir. Day 8: We drive north to Tamri to search in the scrub and fields adjacent to the coast for Northern Bald Ibis. Whilst doing so we may see Moussier���¢�¯�¿�½�¯�¿�½s Redstart, Spectacled Warbler, Barbary and Lanner Falcons, Barbary Partridge and Black-crowned Tchagra, while offshore there may be Northern Gannets, Sandwich Terns, Balearic and Cory���¢�¯�¿�½�¯�¿�½s Shearwaters and skuas. On the beaches will be huge numbers of gulls, mainly Lesser Black-backed of two races but there will also be plenty of Audouin���¢�¯�¿�½�¯�¿�½s and a few Yellow-legged Gulls. If we see the ibises with time to spare we will return south to the Oued Sous estuary. Day 9: Today we will visit the Oued Massa, south of Agadir, which a superb estuary is holding numerous birds in the winter. In the deeper waters Greater Flamingos feed and Common Cranes can be found in family parties along the reedy edges, whilst waders and wildfowl are present in good numbers. With some luck we may see Black-bellied Sandgrouse. We will also have another chance for Black-crowned Tchagra here when we look for Laughing Doves, Spotless Starlings and Spanish Sparrows. Later in the day we will return north to explore the Oued Sous estuary, which literally heaves with birds. Numerous waders include Black-winged Stilt and Kentish Plover, whilst the gulls can include Audouin���¢�¯�¿�½�¯�¿�½s, Mediterranean and Slender-billed Gulls. European Spoonbill, Greater Flamingo and Osprey all occur and there is a good chance of a rarity. Day 10: Today we will drive to Marrakech arriving mid morning for a walk around the Kasbah and lunch, plus House Buntings. In the afternoon we will drive up into the High Atlas for a one-night stay at Oukaimeden. As we drive up the mountain road the scenery is absolutely stunning and we must keep our eyes open for raptors including Bonnelli���¢�¯�¿�½�¯�¿�½s and Golden Eagles. Levaillant���¢�¯�¿�½�¯�¿�½s Woodpeckers occur, as do Rock and Cirl Buntings and Black Redstart. Day 11: Dawn can be very cold here so you are advised to dress warmly! It���¢�¯�¿�½�¯�¿�½s worth the mild discomfort of the cold, however, to see the flocks of Crimson-winged Finches and Rock Petronias. Red-billed and Yellow-billed Choughs will be wheeling around, while Water Pipits and White-throated Dippers search the reservoir margins for food. We will explore the area around the village, seeing plenty of birds in this seemingly inhospitable environment. Shore Larks and Black Redstarts are common and Alpine Accentors are sometimes found in the gardens. The views over the mountains and across the plains are breathtaking. Later we will drop down the valley to look for the local race of Coal Tit and Eurasian Crag-martin. We will also look for Levaillant���¢�¯�¿�½�¯�¿�½s Woodpecker again if still needed, before dropping down to Marrakech and across the plains back to Casablanca. We will, of course, make several stops en route, still with the chance of seeing new species including Calandra Lark. Overnight in Casablanca. Day 12: Sadly it is time to say farewell to Morocco as we catch our flight back to London, where the tour concludes. quotes on request.
Also of Interest Near
Marrakech, Morocco
Similar Nearby Listings (See All)
Featured Adventures Nearby (See All)
Featured Accommodations Nearby (See All)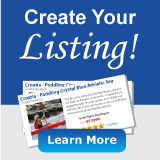 Add Your Travel Services and Accommodations
Add a multi-page listing promoting your accommodations, tours or travel services to customers on our network of travel sites. Your listing page includes an interactive map, availability calendar, reviews, photo-gallery and more.
Create Your Listing