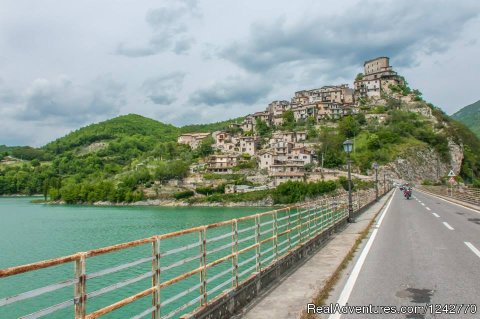 Italian Idyll Tuscany, Abruzzo & Umbria
Motorcycle Tours | Abano, Italy
Experience Italy as few Americans have. Why limit yourself to Tuscany when Umbria, Marche, and Abruzzo beckon as well? A van carries all your luggage, BMW motorcycles are furnished, and you are free to ride at your own pace on your own route!
USD $7955 per trip
Active Adventure

Ride a BMW from the Mediterranean to the Adriatic in irresistible, irreplaceable, irrepressible Italy!

One could run through the alphabet and find phrases and descriptions beginning with each of the 26 letters that personify the wonderful country that is Italy. In an effort to bring this specialness to the fore, we have a delightful itinerary that is wholly Italian. The Regioni of Italy are comparable to the states in the U.S.A., and on the Italian Idyll we explore five: Toscana, Marche, Umbria, Lazio and Abruzzo.

As with all Beach destinations, these offer tremendous terrain; scenery that truly does take the breath away; and riding opportunities incomparable elsewhere. To take maximum advantage of all that central Italy offers, this itinerary features many double overnights. These allow in-depth exploration, or riding each and every road that strikes your fancy.

The majority of the Italian Idyll takes place in magical little towns far from the normal "tourist circuit." Here life moves at a farmer's pace, and seasons rather than hours or days dictate activity. The ancients left a special legacy, and our visits to Florence, Rome and Siena are the opportunity to appreciate the culture and beauty they created.

As modern men and women, we have the opportunity to ride, and ride we shall! Away from the main valleys dynamite little roads await. These tiny roads take time and reward you, the explorer, with a glimpse of Italy that is unforgettable in its timelessness. These roads take you through olive groves, spectacular mountains, medieval villages, and quiet countryside, rewarding the motorcyclist with a unique experience.

Terrific Tuscany:
We begin with the heart of Italy Tuscany. All of Italy is beautiful, but this region surpasses all others in natural beauty. It is one of the most verdant areas with beech and fir woods, majestic and elegant cypress trees, and one hundred nature preserves.

Visit a Sovereign Territory:
The overnight in San Marino presents a puzzlement. San Marino is in Italy, it is completely surrounded by Italy, but it is not Italian. A sovereign territory for 1,500 years, San Marino is the tiniest republic in Europe just 23 square miles! Only the Vatican, comprised of just 0.5 sq. km., is smaller. San Marino is more than a dot on the 'been there' map. It is central to good riding with both mountains and seacoast beckoning.

Incessant curves:
We touch the Marche more than once, with good reason. Seemingly a more 3-D version of Tuscany, the hills of the Marche are higher and the views are more expansive. We travel south at right angles to a majority of the valleys. Crest a range of hills and be treated to a wonderful view again and again throughout the day! The economy of this peaceful area relies on service, agriculture, and artisans. Another delight for riders is the lack of industry, meaning that the roads have not been straightened to handle the burden of large vehicles. Rather, Marche's roads faithfully follow the contours of the land.

Explore the streets of Assisi:
Next comes Umbria and specifically, the village of Trevi, just a few kilometers from Assisi, for our overnights. Each small village along the way is home to a castle, church, or museum that is, indeed, a must stop and admire location! Nearby Spello has Roman ruins, Baroque and Gothic churches, and a renowned fresco depicting New Testament scenes.

Umbria consists of 8,456 square miles, 53% of which is mountainous, 41% hilly, and 6% flat (we have ways around that bit!). Situated in the exact geographical center of the Italian peninsula, Umbria was the crossroads for men, ideas, and cultures as well as the meeting place for the battling hordes from the north and south.

Dante was of the opinion that Umbria was the most violent place in all of Italy. In spite of the violence, or perhaps because of it, Umbria is also known as the land of saints Francis, Clare, Benedict, Rita, and Valentine to name but a few.

The city walls surrounding another Umbrian stop, Norcia, attest to violence, while St. Benedict's monastery, safe within those walls, adds a glimmer of peace and serenity.

Ride the Gran Sasso range:
A dip into Abruzzo takes us, once again, almost to the east coast of Italy. Abruzzo is sited in the highest and wildest portion of the Apennines. Three mighty mountain chains contain the highest peaks in the peninsula. Villages seem to cling to the cliffs for dear life. Farming is possible only in the valleys and in the hills brown bear, chamois, wolf, and the golden eagle are still to be found.

Our double overnight here has been arranged specifically to benefit the riders, for roads in the Gran Sasso offer some of the best riding in the entire country! Snow capped mountains are not what one would expect in Italy, yet here they are, towering over your unique accommodation in a Medieval village. The Gran Sasso is just one more place certain to leave a lasting memory.

Roman and Renaissance cities:
As an alternative to dancing with your bike on brilliant roads, Italy's culture and history come alive in the cities visited on the Italian Idyll. Your free days allow detailed exploration of crazy, majestic Rome, artistic and beautiful Florence, and elegant Siena. Stroll on the Ponte Vecchio, visit the Roman Forum, and enjoy a glass of Chianti in Piazza del Campo. Take it lightly, or dive in with tourist vigor.

Riders have excellent options on free days if these impressive cities don't strike your fancy. Each day on the Italian Idyll has been thoughtfully planned to offer a variety of routes of various distances. Enjoy the cities, revel on the country roads it is your choice.

As you will find, from the sun-drenched coasts to the snow-clad peaks, Italy is a paradise for travelers. There is magic to be found in the antiquities: the magnificent museums, the art treasures, the architecture, the parks, gardens and streets, and food and wine that is nothing short of irresistible. And the people! Yes! In short, the entire Italian Idyll is magical!
Typical Day

Your tour includes a pre-programmed GPS on every bike as well as a detailed tour book with day-to-day itinerary. Each evening your lead guide will discuss the suggested routes for the following day and review points of interest along the way. You can choose each day to ride on your own, ride with others, or follow a guide on a bike. A luggage van carries all of your belongings from hotel to hotel. You will arrive to find your luggage waiting in your room each evening. Motorcycle maintenance and minor repairs or adjustments are handled for you. A tour hostess is along to make sure all of your vacation desires are met and a tour photographer will provide you with a professional photo slideshow on a DVD.
Map & Directions

Abano, Italy

Points of Interest

Start & End

Florence, Italy

San Marino

San Marino, Italy

Umbria

Spello, Italy

Abruzzo

Abruzzo, Italy

Porto Santo Stefano

Porto Santo Stefano, Grosseto, Italy
Rates & Availability

| Date | Rider | Pssngr | Sports Car Driver |
| --- | --- | --- | --- |
| October 14 - 28, 2018 | 7955 | 6055 | $6,435 |
| October 6 - 20, 2019 | 7955 | 6055 | $6,435 |
| Single Room Upgrade | 638 | 638 | $638 |

Price

Rider $7,955

Sports car driver $6,435

Passenger $6,055

Single Room $638

*Prices subject to change

*Please

contact advertiser

for rates & availability for your travel dates.
Age range, type of group

You must have a valid motorcycle license at the time of your tour. If you have friends or family who don't ride we can also make arrangements for them to come along in a fun convertible sports car!


Sleeping and meals

All of your hotels are included. Accommodations are 3, 4, and 5 star depending on what is available in the area. All of your breakfasts and most of your dinners are included. You are responsible for your lunches, daily expenses, fuel and dinners on double overnights.


Other Information

Enjoy the freedom and adventure of a European motorcycle vacation with just the right amount of support. For 40 years Beach's Motorcycle Adventures has specialized in motorcycle tours of the European Alps. Beach's is the company which has always set the standard. We don't aim to be the World's leading motorcycle touring company-only the World's best!


Advertiser Info

Rob Beach

Listing # RA-1242770